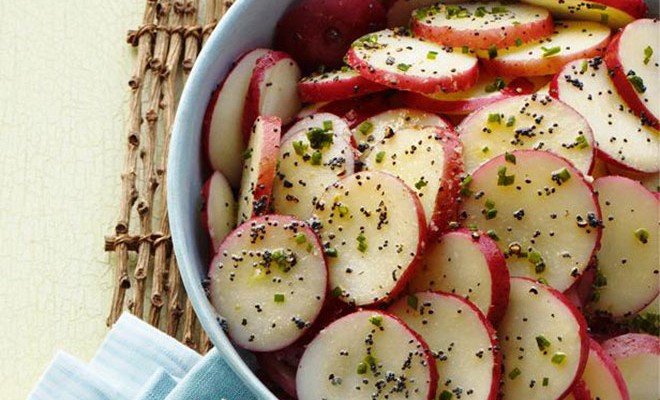 One of the best parts of summer is alfresco dining — how can you not enjoy decadent foods on a gorge sunny day?
Take your backyard BBQ party to the next level with a quaint picnic. It's a fun way to mix delicious portable treats with a casual, laid-back vibe. From tasty finger sandwiches to delish potato salad, we've got the perfect recipes to help you pack a picture-perfect picnic!
Dill Dip with Baked Pita Wedges
This light and fresh recipe is a wonderful upgrade to your classic chips and dip — an absolute staple at any picnic. It combines greek yogurt with sour cream and fresh dill.
---
Pressed Italian Picnic Sandwiches
These beautiful Italian sandwiches perfectly combine upscale quality with the convenience that is required by a picnic. We're obsessed with the layers of fresh mozzarella, sliced salami, chicken breast, and sun dried tomatoes, all between slices of earthy focaccia bread.
---
Watermelon & Feta Salad
As the star fruit of the summer season, watermelon is an absolute must-have at any picnic. The combination of sweet watermelon with salty feta provides an unexpected burst of flavor.
---
Poppy Seed Potato Salad
This lighter version of the oh-so popular potato salad swaps out heavy mayonnaise in favor of dijon mustard, putting a truly unique twist on a favored classic.
---
Antipasto Skewers
Finger foods are the bread and butter of any picnic. An arrangement of mozzarella, salami, cheese tortellini, olives, and cherry tomatoes, this antipasto recipe packs a ton of flavor into tiny bite-sized pieces.
---
Dale's Rainbow Planter's Punch
After all of that delicious food, you'll need something sweet and juicy to wash down the savory flavors. Mix fresh orange slices, pineapple juice, simple syrup, and a whole lot of rum to create a succulent punch recipe that tastes as good as it looks.
---
No-Bake S'mores Bars
Every picnic needs to end with something sweet. It doesn't get much easier or yummier than these no-bake s'mores bars which only require fridge time to prepare these little drops of heaven.
xx, The FabFitFun Team