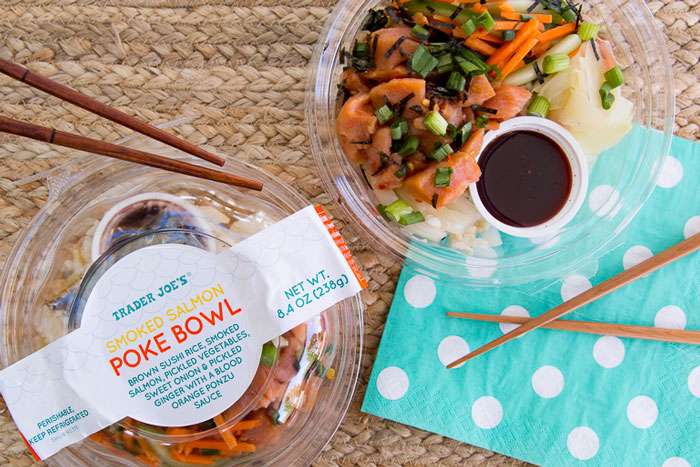 Trader Joe's sure knows how to keep our palates happy. The grocery chain unveils new foods and drinks on a rolling basis, and we're highlighting 10 of our recent favorites.
From beverages and sauces to desserts and even beauty products, you're going to want to add these to your shopping list stat.
At just $2.99 per can, you can take wine on all of your summer adventures. We have to say, for a canned wine, the flavor is perfectly crisp and delicious!
---
This creamy non-dairy beverage is the perfect addition to any smoothie, coffee, or bowl of cereal. You're totally nuts if you didn't go nuts over this drink (wink, wink).
---
While there have been mixed reviews on whether or not this gluten-free version is comparable to Hot Cheetos. But it's worth picking up on your next TJ's run to taste what the hype's all about.
---
We already love the chocolate-covered Gone Bananas, so we were thrilled when TJ's released a strawberry one. It's the perfect summer dessert to keep stocked in your freezer.
---
Need a quick and healthy lunch? Try TJ's new poke bowl. It's jam-packed with brown rice, smoked salmon, sweet onions, pickled cucumbers, and shredded carrots — all for only $6!
---
If you like cauliflower rice and pizza crust, this cauliflower gnocchi is a must-try. It's made with cassava flour, cauliflower, potato starch, extra virgin olive oil, and sea salt (that's it!).
---
There's something comforting about a simple chocolate-filled cookie. Dip it into your afternoon tea for a sweet little pick-me-up.
---
We're drooling just thinking about the creamy caramel and biscuit-filled bites. Yum!
---
TJ's beauty aisle is one worth checking out. Start with this creamy body butter and feed your skin with a hydrating blend of avocado oil, jojoba oil, and shea butter.
---
Summer barbecue, anyone? This peach dessert is baked to perfection with a flaky crust and is sure to be a total crowd-pleaser.
xx, The FabFitFun Team