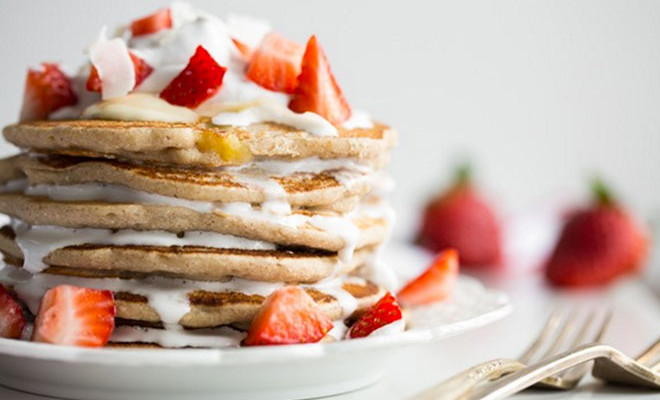 Breakfast is the most important meal of the day, so don't skip out on it! Sure, we get busy and think a cup of coffee is enough to last us through lunch — but it's not.
Get your nutrients in with these simple yet delicious breakfast recipes. Don't use time as an excuse to not eat breakfast because these dishes don't take long to make. Enjoy!
Overnight Oats
Overnight oats is one of the easiest breakfasts to make and you'll love how scrumptious they are! A classic recipe mixes rolled oats with unsweetened milk, greek yogurt, chia seeds, and honey — it's a lot of nutrients packed into one mason jar!
---
Egg-in-a-Hole
Plain toast can get old pretty quick — but adding even one sunny side up egg will make your toast so much more delicious. Sometimes referred to as a "bird's nest" this egg and toast recipe just takes a few minutes to cook and will give you a nice protein kick to start the day!
---
Homemade Muesli
It's OK if you don't know how to pronounce it, but this simple breakfast recipe is the perfect meal to start the day. We love the hint of coconut and texture of oats. This recipe goes great with fresh fruit and it's perfect for a woman on-the-go!
---
Super Green Smoothie Bowl
Smoothie bowls are delicious and oh-so filling! But why purchase a $10 bowl when you can easily make one at home? Pull out the blender to make this simple smoothie, pour it into a bowl, add your fave toppings and voila! You've got yourself a 'gram-worthy and healthy breakfast to start the day.
---
Breakfast Cookies
We just found an excuse to eat cookies for breakfast. Packed with nuts, seeds, and fruits, these cookies are essentially granola in a cookie form. Bake these over the weekend and you've got yourself a simple, on-the-go breakfast!
---
California Avocado Toast
There's a reason why people post photos of their avocado toast on Insta — it's pretty and so delish! Upgrade your toast with the simple addition of eggs, bacon, or tomatoes — the options are endless.
---
Vegan Gluten-Free Strawberry Shortcake Pancakes
The name says it all — and how uh-mazing does this breakfast look? Coconut whipped cream, strawberries, and vegan butter make this delightful recipe. It's actually quite easy to make and definitely well worth it.
xx, The FabFitFun Team