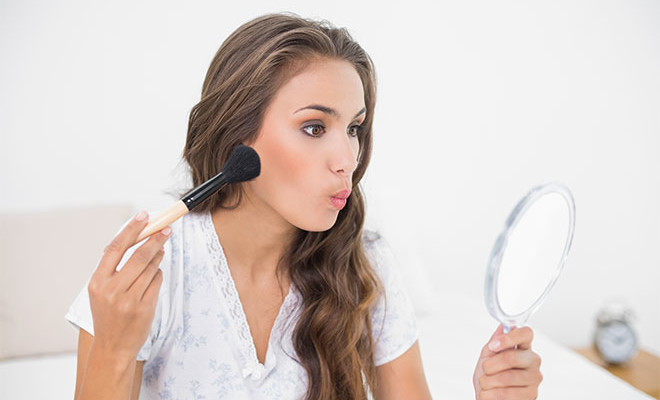 Now that the heat is here to stay, it's time to apply less makeup and do more to let your skin glow.
You need to use a quality highlighter (like the ISH Contour Palette) in all the right places on your face and body for a radiant glow that will last from day 'til night. But where exactly should you apply the shimmery powder?
Read on to learn how to apply that highlight for the best dewy look ever!
Cheekbones
Sweeping a highlight in a "C" shape starting from above your eyebrow and across the tops of your cheeks will help you ensure your shimmer can always find the light source. Beam on, you beaut!
Above the Brows
Give your look an instant lift by highlighting right above the outer edges of your brow line. With the shimmer placed above the brows, your highlight will never interfere with your eye shadow.
Cupid's Bow
Just a dab of highlighter on the top center of your lips (where it dips) will accentuate your pout in the best way possible.
Down the Nose
Swiping a tiny bit of highlighter down the center of the nose will accentuate your the bridge of your nose. It's always a good idea to highlight the highest parts of your face for the strongest shimmer possible.
Corner of the Eyes
Using your finger, you can place some highlight in the corner of your eyes and make those bright, beautiful eyes sparkle.
Shoulders
Especially if you're wearing a tank top or going strapless, you're going to want to accentuate those sexy, sculpted shoulders. Who said highlight was just for your face anyway? Sweep some powder across the tops of the shoulders for a gorgeous sheen.
Collar Bones
Collarbones are such a beautiful, delicate part of the body, so why not accentuate them even more? Sweep some highlight across your collarbones, and they'll glisten in the light.
Do you have any other tips on how to apply highlight? Let us know in the comments below!
xx, The FabFitFun Team