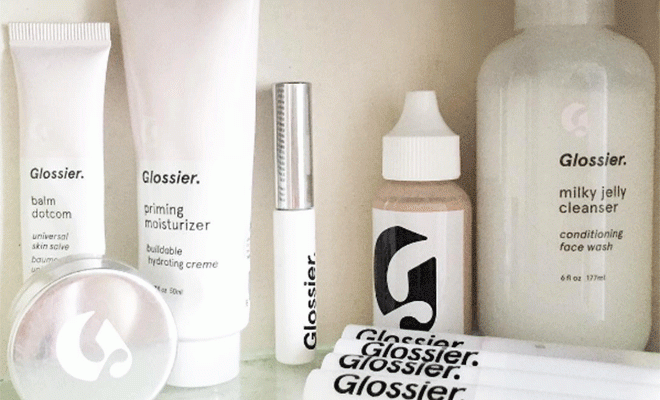 @amyhildebrandz
If the Glossier craze hasn't hit you yet, then you're living under a Sephora-eclipsed rock.
The makeup startup, founded by Emily Weiss of Into the Gloss, is taking the world by storm. Between a killer marketing team and a handful of go-to beauty staples, Glossier products are selling so well they can hardly keep up with the demand.
For anyone as obsessed as we are, we're patiently awaiting the arrival of a new batch of the highly coveted Haloscope in Quartz. Don't know what we're talking about? Read on to get the down low on the products that will make you glow like a "freshly glazed donut" (their words, not ours).
Stretch Concealer $18
On the makeup side of things, Glossier has a solid lineup. With the tagline to "let skin look like skin," their Stretch Concealer is no exception. Packaged in a small cream container, the build-able concealer is a quick and easy solution for those annoying dark circles.
---
Milky Jelly Cleanser $18
The Milky Jelly Cleanser is the perfect face wash for everyday use. It even acts as a makeup remover if applied on dry skin. It's purifying, gentle, and smells like roses. Yes, yes, yes!
---
Haloscope $22
Glossier's Haloscope has officially reached cult-following level. Fans have been waiting for months for the company to get a fresh batch of the dewy highlighter after it quickly sold-out of its most recent stock.
---
Generation G Lipstick $18
The Generation G lipstick is the love child of the perfect lip stain and a killer lip balm. Offered in four different shades, its sheer tint and smooth texture make it perfect for every occasion.
---
The Super Pack $65
In classic Glossier fashion, the company managed to turn our makeup routines upside down with the introduction of their new serum line, The Supers. While we haven't had a chance to try out any of the three formulas yet, word on the street is they're just as good as their marketing makes them out to be.
xx, The FabFitFun Team