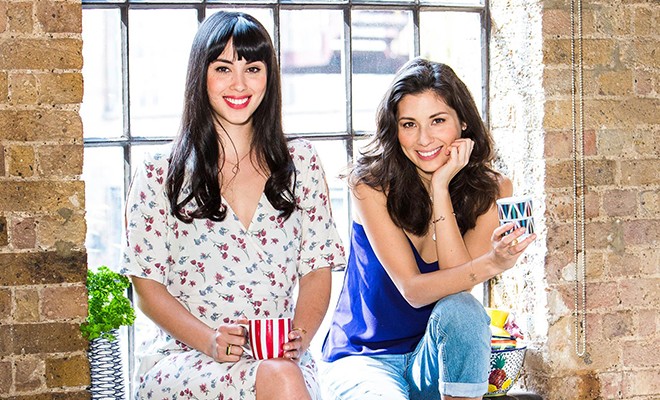 Hemsley & Hemsley
Have you ever dreamed of owning your own business? Maybe you love to cook, teach people about wellness, are a style or design guru, or even have a more technical idea or talent that would be totally valuable to others. Either way, going at it alone can be pretty tough — that's why we're extra inspired by bright thinkers who teamed up with a sibling to bring their dream to life.
Celebrate National Siblings Day (4/10) by learning about these brother and sister duos who are completely crushing it.
Stripe: Patrick and John Collison
Chances are, if you've shopped online, the actual transaction part of getting your goods happened with the magic of Stripe. This amazing San Francisco startup was founded by a team of two Irish brothers who wanted to create a more seamless way for people to pay. Today, their clients are the world's most top-notch companies, including Amazon, ShopStyle, Target, Saks Fifth Avenue, and more.
Paperless Post: James and Alexa Hirschfeld
We bet you've received a Paperless Post, the realistic-looking invitations people can send to announce an engagement, wedding, baby shower, or something else with a digital stamp. But did you know that this cool company was founded by a brother-sister team? It's true! James came up with the idea first before bringing Alexa onboard, and they launched the company together in 2009. Their HQ is even in NYC, which is where they grew up.
Gypsy 05: Osi and Dotan Shoham
A sibling duo that created an environmentally-friendly clothing line? Now that's impressive. Osi and Dotan are known to have reinvented the tie-dye industry as they made sure their company incorporated organic fabrics, soy softeners, low impact dyes, and seaweed extract printing when developing their clothing. Even better, our FabFitFun Spring Box features a gorgeous roundie designed in collaboration with Gypsy 05.
Hemsley + Hemsley: Jasmine and Melissa Hemsley
Sister health gurus Jasmine and Melissa offer a ton of amazing services through the company they created together, like cooking and education for their clients. They also work together on Sous Style, where they share recipes and serve as editors.
Bella Dawn: Dawn and Denise Del Russo
Another match made in heaven, sisters Dawn and Denise offer fashion styling and makeup services in New York. Together, they tackle TV segments, photo shoots, and take private clients! We read that they hope to launch a line of organic products soon. Get it, girls!
The Brownie Bar: Rachael and Sarah Cawkwell
We get heart eyes just thinking about this sibling duo's company, The Brownie Bar. What a dream to spend all day making one of our fave treats. Based in the UK, the sisters send their goodies as far as the North East and take orders online. Even more impressive as how they've grown their company? Their perfect mix of skills — Sarah is a trained pastry chef while Rachel knows her stuff when it comes to business.
xx, The FabFitFun Team