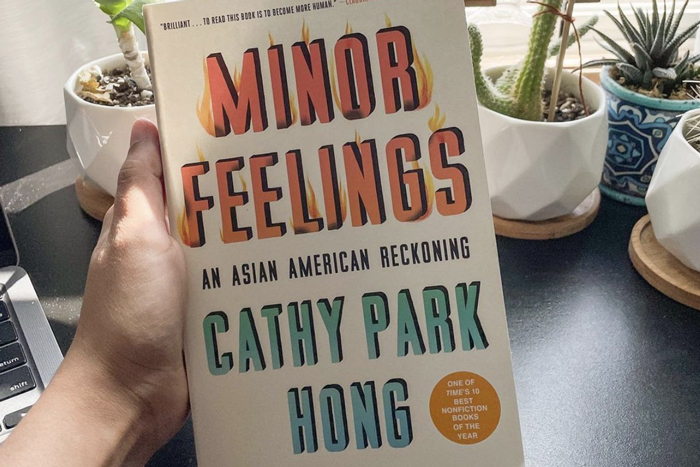 Feature Image by @qarni.reads
Reading is a great way to broaden your horizons and learn new things, but it's also a great way to show your support. There are many wonderful Asian American authors that deserve to be on your bookshelves. So take a look at a few of our favorites to find your next great read.
If you love The Great Gatsby, Vo's debut novel is just the Roaring 20's story you need to read next. Jordan may seem to have it all, but she still has to learn to navigate the social politics of the age and the intricacies of matters of the heart.
---
As Lian and her classmates travel to Western China to avoid the destruction of Japanese bombs, they're tasked with protecting an ancient collection of myths and folklore that has the power to change the world around them. While this book is part of a trilogy, you don't have to read the first two novels to enjoy and understand this story.
---
This is a tale of the haves and have nots as you've never read before. Casey Han may look like she's living the fabulous New York City life, but money is a problem that's always on her mind. What will she and the other Manhattanites do for the wealthy lifestyle they dream of?
---
The book that inspired the miniseries that took the world by storm, Little Fires Everywhere takes you to a Cleveland suburb that's got it all planned out. Mia and her daughter, Pearl, are new to the area, but even though they're initially welcomed, a divisive debate erupts in the town and everyone's secrets are put to the test.
---
Get ready for a Gold Rush adventure! Lucy and Sam have lost both of their parents and must find a place to stay. Little do they know what family secrets and symbols of Chinese history they'll discover along the way.
---
After Liya's mother, Su Lan, dies unexpectedly, Liya sets out to return her mother's ashes to China. Along the way, Liya meets the father she's never known and discovers how her mother's past could affect her present.
---
The final installment of the Crazy Rich Asians Trilogy, this book follows Nicholas, Astrid, and Kitty as the entire Shang-Young family gets together as their matriarch, Su Yi, is dying. However, this family gathering proves to be more troublesome instead of tranquil and you'll never guess how it all ends.
---
For this Chinese-American narrator, the move from Silicon Valley to upstate New York doesn't turn out to be the romantic gesture she intended it to be. Instead, she finds herself questioning the future of her relationship and her role in American society.
---
In this collection of essays, Cathy Park Hong explores the shame, suspicion, and melancholy that characterized her childhood. Through her musings and reflections, Hong reveals a deeper look at American race relations as it is today.
---
After her rough breakup, Lila moves home and starts to work in the family restaurant, but not everything goes as planned. Soon Lilia is suspected of killing her ex-boyfriend and she has to take matters into her own hands to prove her innocence.
xx, The FabFitFun Team