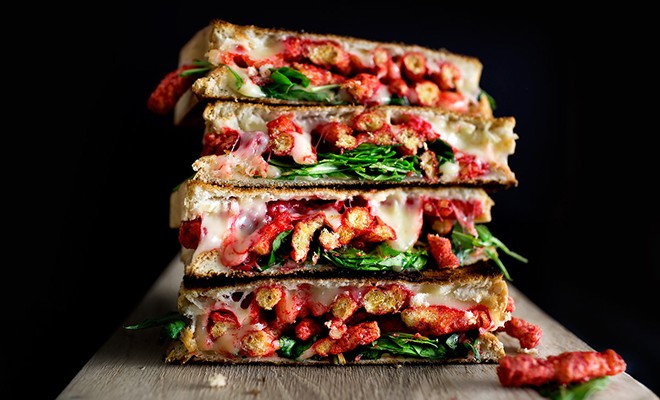 If you ever need an excuse to have more cheese and bread in your life, this is it (#yourewelcome). In celebration of National Grilled Cheese Day (April 12), we found five grilled cheese recipes that will leave your taste buds wanting more.
Grilled Cheese Roll-Ups
This is basically an upgraded version of mozzarella sticks and they couldn't be easier to make. Use a rolling pin (or anything similar) to flatten some bread, place a slice of cheese on top, roll tightly, and butter it up to grill on high heat! You'll know when it's ready when the cheese starts oozing from the sides.
---
Tater-Tot Grilled Cheese Waffle Sandwich
There's a whole lot of cheesy goodness in these tater tot waffle sandwiches. Add some bacon and jalapeños to add a spicy kick and you've got a breakfast that can't be beat.
---
Hot Cheetos Grilled Cheese Sandwich
This one's for all you Hot Cheetos aficionados. Satisfy your Hot Cheetos craving with this playful dish that's extra crunchy and pseudo-healthy (the added arugula counts for something, right?).
---
Mac & Cheese Grilled Cheese Sandwich
If our favorite childhood dishes had a baby, this would be it. Make your own mac 'n' cheese or grab some Kraft Easy Mac to stuff your grilled cheese sandwich. If you don't try this one, you're missing out.
---
Korean-Fusion Kimchi Grilled Cheese Sandwich
Who knew kimchi and cheese made for such a brilliant combination? Chop up some kimchi and add it to your grilled cheese for a fusion dish that's sure to tickle your palette. Trust us, you won't regret it.
xx, The FabFitFun Team