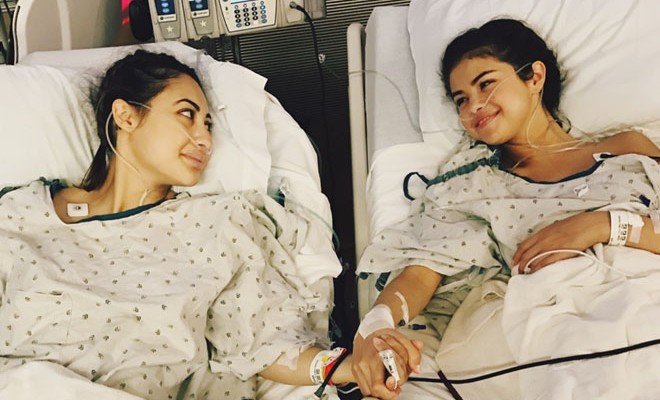 @selenagomez
Ever since Selena Gomez opened up about her battle with lupus last year, the Bad Liar singer has been completely transparent regarding her experience with this health condition.
Most recently, the IG queen shared a photo on Instagram about receiving a kidney transplant earlier this summer. In the photos, she unveils post-op shots including one with her close friend and kidney donor, actress Francia Raisa (widely known for her role in The Secret Life of the American Teenager).
Not only is Gomez's post so brave and inspiring (imagine being this vulnerable in front of 126 million people), it's also shifting the attention on a serious women's health issue that affects 1.5 million Americans (90 percent of whom are female).
If you don't know what lupus is, we break it down below:
What is it?
When you have lupus, your immune system is unable to differentiate foreign invaders (aka viruses, bacteria, and germs) and your body's healthy tissues. As a result, the immune system starts to attack healthy cells and tissues, damaging many parts of the body such as the joints, skin, kidneys, heart, lungs, blood vessels, and brain.
Who gets lupus?
While anyone can get lupus, it mostly affects women of childbearing age (ages between 15 and 44). It's also two to three times more likely to affect women of color.
Any signs and symptoms?
The most common symptoms include pain or swelling in joints, muscle pain, fever, red rashes, chest pain, hair loss, pale or purple fingers or toes, fatigue, swelling in legs or around eyes, mouth ulcers, swollen glands, and sensitivity to the sun. It's important to note that symptoms can come and go and new symptoms may appear at any time.
How is it treated?
Because lupus can affect your body in different ways, you may need a different kind of doctor depending on the types of symptoms you have. The doctor will work with you to develop a treatment plan that you're comfortable with and can be adjusted as new symptoms arise. The goals of the treatments are to prevent flares (the times when a person is having symptoms), treat flares when they occur, and reduce organ damage.
For more information, visit lupusresearch.org.
xx, The FabFitFun Team