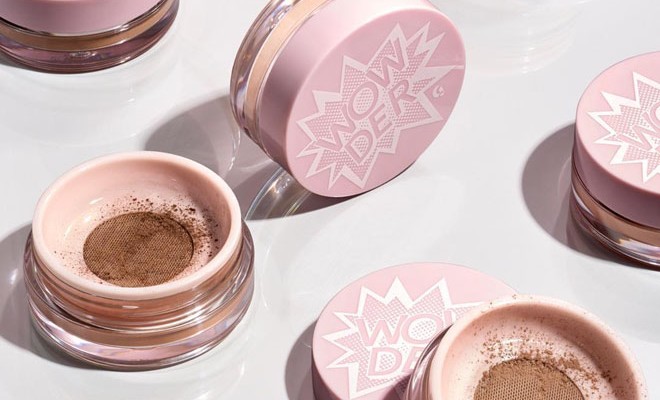 @glossier
Glossier may be one of the newer brands on the block, but their products are taking the beauty world by storm. Their signature products (like Boy Brow and Balm Dotcom) staples in every beauty blogger's makeup bag, their New York showroom almost always has a line outside of people waiting just to get in, and Emily Weiss, the founder and CEO, is the definition of #goals.
That's why when Glossier launched Wowder, beauty junkies were dying to get their hands on it. The finishing powder comes in three shades and aims to cut shine, set your makeup, and blur the appearance of pores, leaving your skin with a glowy, matte-not-flat finish. Glossier also created a Wowder Brush to ensure perfect application.
So here comes the real question: is it worth the hype? Opinions across the web are definitely varied, but below are a few points that even the positive and negative reviews mutually agree on.
You need to apply it throughout the day
Finishing powder is meant to keep your already made-up face looking flawless. But as the day goes on, your skin changes (gets oily, sweaty, etc.), which means your makeup won't look the same as when you first applied it. With that being said, the likelihood of the Wowder lasting you the entire day is quite slim, which was one of the biggest complaints across the web.
It feels amazing
Nearly all reviews rave about how silky and smooth the Wowder felt on their skin. In fact, the formula is so lightweight that some users even forget they even had it on.
Shades are limited
If you have fair skin, the lightest shade might not match. With only three shades to choose from, a widespread complaint came from those either at the lightest or darkest ends of the skin tone spectrum.
The trampoline mesh is awesome
This isn't your average packaging — the mesh helps keep the product inside instead of covering your bathroom counter. Simply dip, swirl, and lightly tap off any excess for the perfect amount of powder each time.
You can skip the brush
The brush is like your average powder brush, but with a smaller surface. If you already have one in your collection, don't bother purchasing the brush or the duo. But if you're used to using your fingers to apply makeup, it's worth throwing one in your shopping cart.
The verdict? If you don't mind freshening up throughout the day, we'd say it's worth it!
xx, The FabFitFun Team