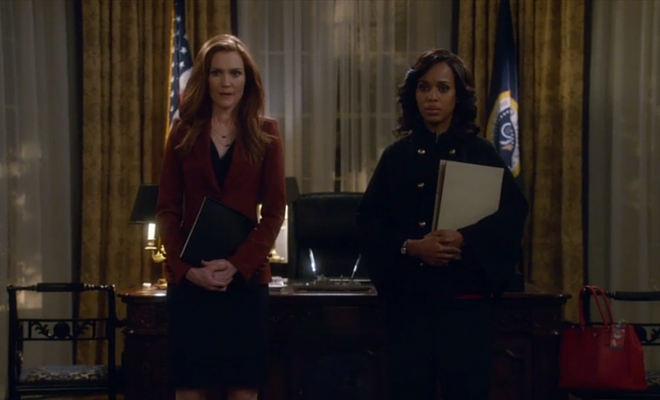 Election Day is coming up and everyone is working overtime to win the presidential election. And the books on their nightstands reveal pretty much what's going on in their lives. Check out what the cast of Scandal is reading during this week's episode Trump Card.
Cyrus — What Color Is Your Parachute? By Richard N. Bolles
It doesn't matter how good Vargas is — he is still losing in the polls. Cyrus confides to Olivia that he's done everything he can to improve their numbers… but nothing is working. The great Cyrus has lost his touch, so maybe it's time to move on to something else. Olivia informs Cyrus that he's losing because Rowan is running Edison's campaign.
---
Doyle — American Tragedy by Theodore Dreiser
He's rocking the campaign trail. Everything that Abby and Olivia have concocted to destroy him hasn't worked. However, Olivia leaks some footage of Doyle being his disgusting self, and voters are enraged. That's the end of Hollis Doyle's campaign.
---
Abby — Divine Secrets of the Ya-Ya Sisterhood by Rebecca Wells
Abby and Olivia have declared a cease-fire in order to destroy Hollis Doyle. However, both teams dig up some dirt on their allies just to make sure they are covered if their peace treaty falls through. Rowan gives Abby some dirt, but it will only hurt Mellie because it hurts Olivia. During their meeting to discuss their findings, Abby chooses to reveal an embarrassing tidbit about Mellie instead of the real dirt — Olivia aborted Fitz's baby.
---
Susan — All the Single Ladies: Unmarried Women and the Rise of an Independent Nation by Rebecca Traister
When Olivia reveals that David Rosen made a deal with Governor Baker to get Susan the endorsement that would win Florida, Susan finally had it. Despite agreeing to marry David earlier in the episode, Susan dumps him. She also drops out of the running for president saying that it's not her time yet. However, her confidence and desire to change the world has never been stronger.
---
Olivia — The Art of War by Sun Tzu
Olivia knows all the right moves to win. She captures footage of Doyle insulting the voters to sink his campaign, which gets Doyle out of the way for Mellie and Susan. Olivia then convinces Edison to tank his campaign which helps save Cyrus' candidate Vargas. OPA finds out how to get Susan to drop out of the race for president. Now Olivia's candidate is poised to win the White House.
---
Edison — Uncle Toms Cabin by Harriet Beecher Stowe
Olivia tells Edison that he's basically Rowan's robot and will never have any power as president. Edison doesn't want to win like that. So he follows Olivia's advice to tank his campaign. He publicly responds to Doyle's racist comments with a very long-winded speech that is conveniently not what voters want to hear. Edison concedes to Vargas.
---
Rowan — The Godfather by Mario Puzo
Edison doesn't want to make Jake his running mate and Rowan isn't having it. Jake then informs Edison that Edison's life-threatening car accident from several years ago was all a part of Jake and Rowan's plan. Edison puts Jake on the ticket, but when Rowan finds out Edison conspired with Olivia to end his campaign, Rowan has Jake rough up Edison a bit.
xx, The FabFitFun Team