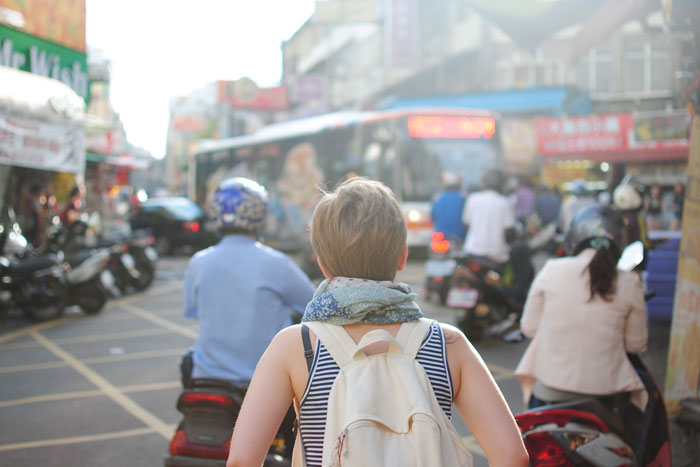 Feature Image by Steven Lewis
From experiencing the world's most breathtaking landmarks to exploring different cultures, there's nothing more invigorating than traveling.
Well, add solo travel to your itinerary, and you open yourself up to even more opportunities for self-discovery. But as exciting as it is to travel alone, there are a few safety precautions to keep in mind. Better safe than sorry!
Act like a local
"You want to fit in and not look like a tourist," advises Justin Lavelle, chief communications offer of Been Verified. "Dress casually and according to local custom. Always carry cash, a guidebook, and a phrase book." It's also important to carry yourself like a local."Walk purposefully like you know where you're going," says Lavelle.
Let people know where you are
Take proper safety precautions before you venture off alone. "Make sure someone can track your phone. This way, they can see your current location in case no one hears from you for more than a few hours," says Luisa Ruocco. We recommend Find My Friends for both iPhone and Android users.
Carry pepper spray at all times
"Always have a mini pepper spray. Mine attaches to my keys and it's pink. Even if you don't use it for a year, get a new one annually to make sure it still works properly," suggests Shelby Tristin, a style, beauty, and travel blogger.
Build your own first aid and emergency kit
When traveling alone, expect the unexpected. You can either buy a first aid kit at your local drugstore or visit your local fire department for professional help. "There, you can prep for your next trip or attend their next emergency response training," says Adriana Smith, founder of Travepreneur.
Do your research before booking accommodations
"When you book a hotel or hostel, always read the reviews before choosing an accommodation," says Karen Turner, travel blogger of Wanderlustingk. Don't forget to consider the safety of the area and public transit!
What's on your packing list? Here are six things travel bloggers can't travel without.
xx, The FabFitFun Team