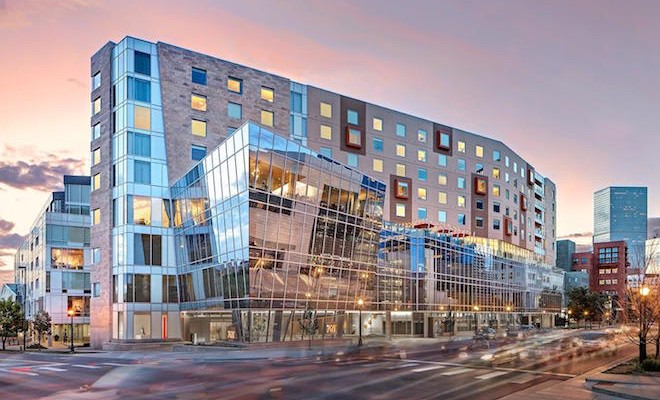 The ART Hotel
If you haven't added Denver to your weekend getaway list, we suggest doing so right now. It's definitely one city we can't stop talking about. In addition to having a booming culinary and brewery scene, it's also super fit and artsy, making it an all around awesome destination for those looking to get a dose of culture and fun.
Heading that way? Check out our guide to a few of our favorite things to do — from yoga classes to our favorite art hotel, and even a spot that serves rosé sour beer.
Stay in a Legit Art Hotel
Lots of hotels claim to be "art hotels," but The ART Hotel is legit. Dianne Vanderlip curated the space with stunning works such as "Otter" by Deborah Butterfield (a bronzed horse that greets you upon check-in), and Sol Lewitt's large primary colored "Wall Drawing" that graces the hotel's entrance wall.
Each floor boasts different artwork, so grab a guide book and take a stroll! If that's not enough art for the day, check out an artsy bike or run their 2.7 mile self-guided ART Run. Or head to one of the many museums in the area.
---
The Suite Life Is Awesome
We suggest living it up with a suite at The ART Hotel. Because YOLO, right? The suites also come complete with city or downtown museum views, adult coloring books, the best beauty amenities (cue Frank Gerhy fish sculpture soap), the most amazing bathtub ever, and of course, lots of artwork. Our favorite perk, though, is bedtime cookie service, where freshly baked milk and cookies are delivered in-room on an artist palette plate.
---
Because an Awkward Family Photo Exhibit Exists
Through January 8, 2017, there's an Awkward Family Photos exhibit at History Colorado Center. Yep, the same photos you've probably laughed hysterically at on the web have come together in real life to make the funniest exhibit ever. There are several rooms of photos — and some families spiel the hilarious stories behind the actual photos. Bonus: you can take your own awkward photos with the museum's props (think cats, weird hats, and more).
---
First Draft Taproom Is the Place to Go to Sample Local Beer
Don't have time to hop around from brewery to brewery? No fret. First Draft Taproom in the River North Arts District has 40 different types of craft beer, wine, and cider on tap at all times — and they're mostly local, too. The best part? You get a plastic card to activate the taps and can and pour as much (or as little) as you'd like — at your leisure. Plus, we discovered rosé sour beer, which is life changing!
---
There's Also a Beer Spa Treatment
Indulge in a beer-centric spa treatment while in the city of beer. The Four Seasons Hotel Denver offers an Ales and Nails treatment for men (that's also enjoyed by us ladies!). Sit back, relax, and let a therapist give you the royal hand and nail detailing treatment — all while enjoying a local Tivoli beer. We suggest making it a full spa day with your beau.
---
Sunset Drinks at Avanti Are the Best
Avanti is a Denver hot spot for many good reasons. Between the epic sunsets, city views, and endless food options, it's a solid choice for happy hour gatherings. Since it's a food hall-like setting, there's literally something for everyone.
---
The Manhattan Cart at FIRE Is on Fire (Literally)
Book a reservation at FIRE to check out Chef Chris Jakubiec's creative dishes  — and to experience their hyped about tableside Manhattan cocktail cart that wheels around, offering up mouth-watering libations. In addition to a classic Manhattan, we also suggest trying the Vieux Carre — which is set aflame (it's definitely 'gram-worthy!).
---
Image: @theviewhouse
You Can Yoga and Brunch at the Same Time
Well, not the same exact time. But ViewHouse's Centennial location does fun stuff throughout the year like CorePower Yoga classes (when the weather is warmer) followed by brunch, movie night, and more. Their grass fed burgers and craft cocktails are beyond amazing, so don't miss out.
---
The Best Brussels Sprouts Salad and Tea Ever
Keep it on the lighter side with a Brussels Salad and Sage-Raspberry Tea at Gozo — a hip little eatery on South Broadway. We literally daydream about these two things on a daily basis. However, if you do feel inclined to get on Regina George's all-carb diet, their pizzas are also amazing.
xx, The FabFit Fun Team