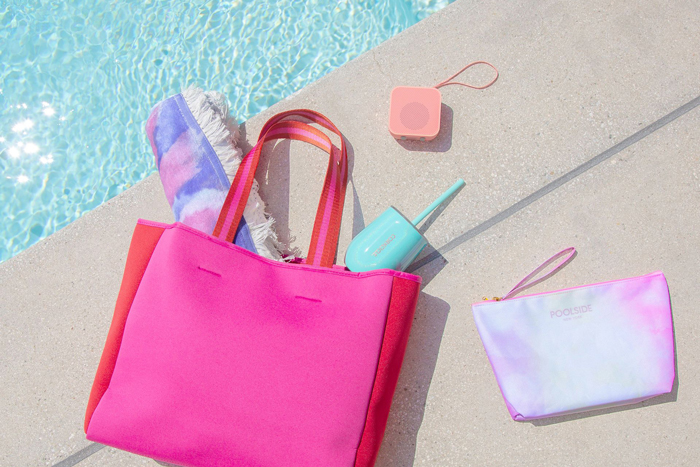 Every great beach and pool day involves a cute swimsuit, A+ weather, and your best friends. While those are the absolute essentials, there are undoubtedly some more products worth noting: a Bluetooth speaker to blare your go-to Spotify playlist, an insulated drink holder to keep your beverage of choice cool, and an insulated pouch to keep your most important possessions dry.
Ahead, the Summer Box is filled with smart and stylish items that will make your next beach or pool date that much better.

Summersalt Neoprene Beach Tote
This roomy neoprene tote comes in two fun color-blocked styles: Hibiscus & Lava and Seaglass & Seaweed. If you want to make a stylish statement, pair it with the brand's matching social media-famous Sidestroke swimsuit.
---

Society6 Outdoor Blanket
If you're an avid beach-goer, this blanket needs to be on your radar. Not only is it photogenic, but it rolls up for easy transport and is water-resistant to prevent damage from unavoidable spills. Simply put, it was born to be used outdoors, unlike your old bed comforter. Fun fact: the gorgeous geometric print is designed by artist Rachel Breeden of Circa 78 Designs.
---

Society6 Wine Chiller
Keep your rosé looking cute and cold by housing it in this stainless steel wine chiller while you take a dip in the pool. The bold print on this chiller is also designed by artist Rachel Breeden of Circa 78 Designs!
---

Milly Jewelry Case
Avoid misplacing your little luxuries by investing in a jewelry case to put them in before you head into the water. Perfect for storing everything from hair elastics to your favorite pair of hoops, this is an item you can make great use of year-round.
---

Sonix Bluetooth Speaker
No beach or pool day is complete without a good playlist. That's where this pretty speaker comes in. If you've been meaning to pick up a new Bluetooth device, consider this your sign.
---

Poolside Water Resistant Pouch
Keep your essentials (i.e., your keys, wallet, and AirPods) safe and dry by stashing them in a water-resistant pouch that can brave some splashes.
---

Corkcicle 12oz Wine Tumbler with Silicone Straw
This stemless wine cup is triple-insulated to ensure that your drink remains as cool as can be. Plus, it's available in five colors ranging from neutrals like black and white to poppy hues like turquoise and pink.
xx, The FabFitFun Team
Psst! Have you signed up for FabFitFun yet? Don't miss out on seasonal boxes filled with the best products in beauty, fitness, and lifestyle, member-exclusive sales, an amazing Community of like-minded women, and more. Use code CELEBRATE at checkout for 20% off your first box.
To get the most out of your box products, make sure to check out the Members Only page.