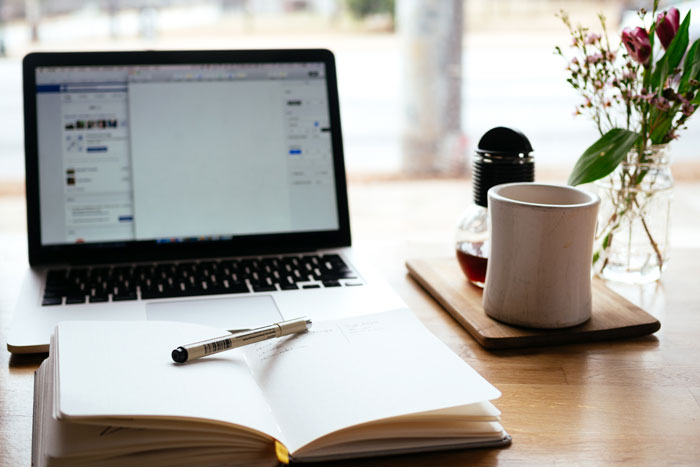 Feature Image by Nick Morrison
Were you finally granted permission to work from home, or have you recently left your corporate job to start freelancing? You'll probably visit coffee shops and cool coworking spots from time to time, but you'll find that some of your most productive "work from home" days are spent in your living room or at the kitchen table.
Here are five tried and true tips to make sure you're as productive as possible.
Minimize distractions
Sure, working from home might be exciting at first, but you'll quickly find that using your home as an office brings a slew of distractions including the TV, loud neighbors, or even a dog. You can minimize these distractions by finding a space in your home where you typically don't spend any free time in — this means staying away from your bed or couch. Productivity pro Julie Morgenstern says that it can take 20 minutes to regain concentration once it's lost, so minimizing potential distractions is key to staying productive.
Make sure your food serves as nutritious fuel
The food you eat can help fuel you with the energy you need to crank out great work. Fortunately, working from home gives you the opportunity to cook and prep nutritious meals (not to mention the occasional snack breaks). Try starting your day with a hearty, homemade breakfast, or toss a power salad with a lot of protein come lunchtime. As for a snack, opt for a light smoothie to keep you chugging along.
Streamline your task list
You might feel freer when you work from home, but a day of getting stuff done at your kitchen table calls for just as much planning as it might at a traditional office. Instead of overwhelming yourself with work, pick three things to focus on. With a shorter, more focused task list, you'll be able to get into the nitty gritty and make sure you complete everything on your to-do list.
Stick with your system
Whether you use your standard to-do list, project management/planning tool like Trello or Asana or another method altogether, stick with the system that works best for you. From there, you can tweak or build on your regular routine whenever you need to. 
Plan something fun to look forward to
It'll be easy to stay motivated if you have something fun to look forward to after work. Whether you're hitting up an event, grabbing a bite to eat with a friend, going on a date, or taking a relaxing walk around your neighborhood, be sure to pencil in an activity to cap off a long day of work in the best way possible.
How do you stay productive when you work from home? Let us know in the comments below!
xx, The FabFitFun Team