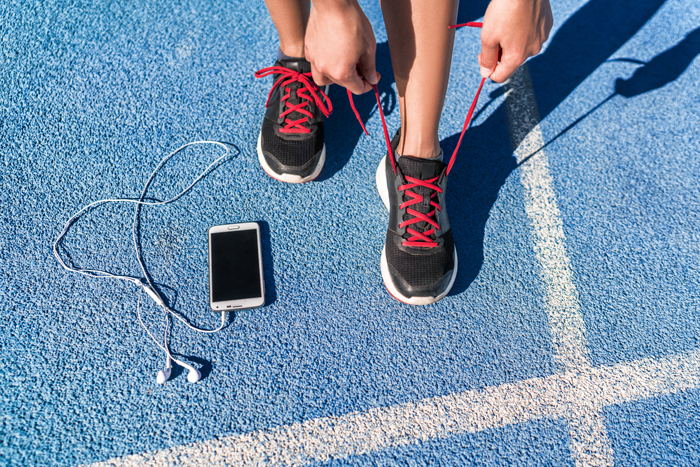 No matter how many motivating playlists you've made on Spotify, listening to music while running can get old really quick. So the next time you go for a run, try listening to one of the podcasts below to help you get (and stay) in the zone.
Bon Appétit Foodcast
If you exercise to eat, then this podcast is for you. The hilarious podcast features interviews with chefs and writers and covers topics like the latest foodie spot, cooking techniques, a peek inside the minds of the world's best chefs, and more. It's guaranteed to keep you smiling until the end of your run.
TED Radio Hour
Hosted by Guy Raz, Radio Hour takes listeners on a journey through a plethora of ideas including inventions, inexplicable connections, innovative thinking, and more. The episodes are interesting yet don't require your full attention so you can zone in and out while you run without hitting rewind.
TRAINED by Nike
Each episode is a mini interview with an inspirational person sharing their breakthroughs, personal struggles, and everyday advice. Some titles include How to Make Your Goals Stick and The Power of Self-Talk and Community in Competition, which are sure to give you some fitspo before and during your run.
Stuff You Should Know
Since you'll be exercising your body, you might as well exercise the mind too! This podcast dives deep into often overlooked yet intriguing topics like search and rescue dogs, Black Friday, and ranked-choice voting.
Congratulations With Chris D'Elia
This is the perfect podcast, particularly if you're in a little bit of a bad mood. D'Elia, the hilarious comedian, gives you his everyday thoughts, which are nothing short of humorous criticism.
Diet Starts Tomorrow
Hilarious and totally relatable, the podcast is about wellness, weight loss, mental health, and fitness from the no-nonsense perspective of real women. It's a great way to do right by both your mind and body.
What Should I Read Next?
Love to multitask? Get the low down on what you should read next while getting in your cardio for the day. From books with the "best bad ending" to books you should read before bed, this podcast covers it all.
Endless Thread
If you love mining the internet for weird, obscure stories, then Endless Thread is worth a listen. Host Ben Brock Johnson dives headfirst into some of the most compelling stories on the internet, leaving you wanting more as a listener.
Are you stuck in a fitness rut? Check out eight things to do if you're not seeing results from your workouts.
xx, The FabFitFun Team