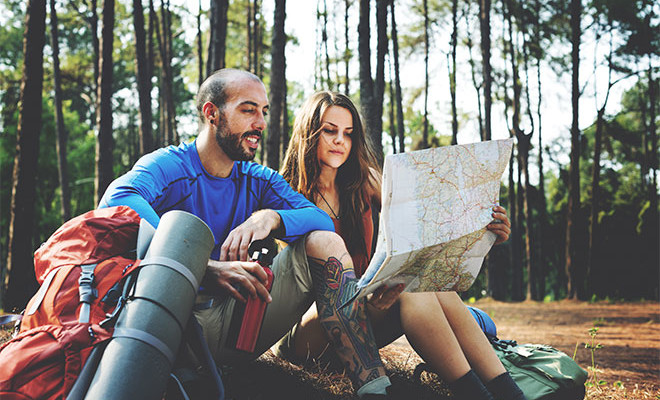 Camping is such a fun way to see nature, explore new places, and really get to know the person you're traveling with — especially if it's your S.O! Think about it: you sleep together in a small nylon tent, use the surroundings when nature calls, and you can't really sneak away to freshen yourself up for your boo.
But before you get to snuggling near the campfire, read our tips to plan a successful, no-drama camping trip!
Pick Your Spot
Choose where you're headed and be sure to check out Reserve America to ensure you book a campsite in time.
Start a Google Doc
Once you've decided where and when you'll be going, create a shared Google Doc that includes a packing list, places to see on your trip, your budget, etc. That way, you'll both be on the same page and it'll help with communication during the planning process.
Get Your Gear
Make sure you have at least a two-person tent that is appropriate for the weather conditions you expect to encounter. Also plan to purchase the right attire and pack additional gear you need for camping whether it's a lamp, boots, or cooler.
Pack Your Snacks
Depending on how much cooking you plan on doing over an open fire, bring enough snacks to last a few days. Camping always makes you hungrier than usual. Try some jerky, mixed nuts, granola, and anything non-perishable and easily transportable. Oh! And don't forget ingredients for s'mores, including skewers to roast the 'mallows with.
Print Your Maps
We know…it's not 1999 anymore and there's GPS everywhere you turn. However, there might be no cell service in some mountain towns and we're sure getting lost in the woods isn't exactly on your agenda. Print some road maps out beforehand or head to AAA to grab some maps before you start your trip.
Plan Your Activities
Definitely include booze (make sure you're allowed to drink on camping grounds) and playing cards in this category. You need to get creative when there's no Wi-Fi or electricity — and a game of Go Fish and some vino makes for a fun night! Also, look up nearby hiking trails or national parks to visit during your time there. It'll be a great way to relax in nature with your S.O.
Have Patience
Don't leave home without this mindset. At some point, one of you will inevitably get lost, tangle up the tent poles, or burn your hot chocolate. But just remember, the trip is supposed to be fun and adventurous — and you'll both leave as happy campers.
xx, The FabFitFun Team