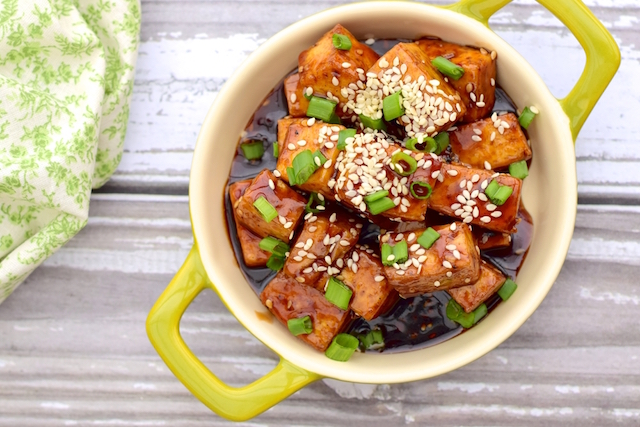 What's your favorite thing about Asian cuisine? Is it the plethora of spices or the variety of noodle shapes? Ours is the sauce! Biting into marinated veggies drenched in salty and sweet sauces over a bowl of rice is just so delish.
Making Asian-style sauces can seem intimidating though. With so many flavors going on in your mouth, you may think it's nearly impossible to find all the ingredients at home. But believe it or not, making an incredible sweet and spicy sauce at home is super simple!
And of course, a tasty sauce needs to accompany an amazing dish. Our peanut glazed sweet and spicy tofu recipe is to die for! The combination of crispy firm tofu, with a teriyaki-esque sauce makes it the perfect meal for lunch or dinner. Make a big of bowl of this with some healthy brown rice, and you got yourself a hearty vegan protein-packed dish!
Peanut Glazed Tofu
Ingredients
1 block firm tofu, cubed
3 tablespoon sesame oil, separated to 2 tablespoons and 1 tablespoon
4 tablespoons low sodium soy sauce
3 tablespoons chili sauce or Sriracha
4 cloves of garlic, mined
2 tablespoon agave nectar
1 tablespoon peanut butter
toasted sesame seeds for topping
chili flakes for topping
Directions
1. In a large mixing bowl, add 2 tablespoons sesame oil, low sodium soy sauce, chili sauce, garlic, agave, and peanut butter. Mix together well, until ingredients are nicely incorporated.
2. In a wok or large saute pan, heat one tablespoon sesame oil on medium high heat. Add the tofu and cook until all side are golden brown. About 3 minutes on each side.
3. Once done cooking, toss the cooked tofu in the large mixing bowl with sauce ingredients, and let marinate for 10 minutes.
4. Heat the same wok you used to cook tofu in, and add the marinated tofu (with all the sauce in bowl) on medium high heat, until the sauce become thick. Stir frequently to prevent burning-takes about 2 minutes.
5. Once finished heating marinated tofu in wok, remove from heat and top with sesame seeds and chili flakes. Serve with your choice of rice or veggies.
xx, The FabFitFun Team