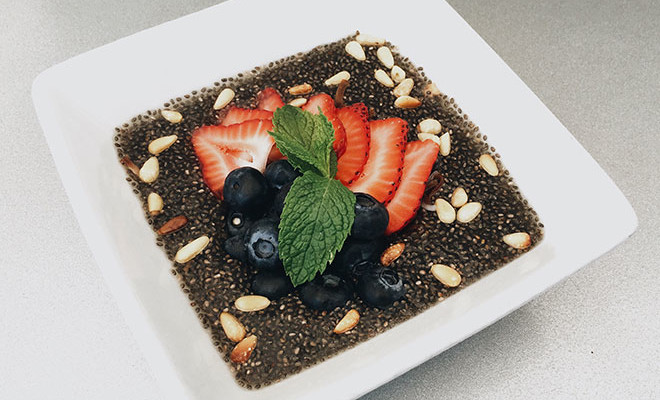 If you're a true Angeleno, you definitely know about Komodo (aka the most delicious Asian-fusion food truck and restaurant in the city). It's our go-to spot whenever we're craving unique, flavorful tacos!
Los Angeles-based Chef Erwin Tjahyadi is responsible for creating these mouthwatering recipes, and we had to ask the chef one crucial question. How does he stay healthy when he's constantly surrounded by delicious Komodo dishes? Well, for starters, he works out often and makes sure to maintain a nutritious and balanced diet.
One of his favorite breakfast items is a power-packed porridge, and lucky for us, he's sharing his recipe! Check it out below #nomnom.
Chia Seeds, Fruits, and Nut Porridge
Ingredients
1 cup of raw chia seeds
1/3 cup of blueberries
1/3 cup of sliced strawberries
1/3 cup of pine nutes
1 teaspon of coconut butter
1 tablespoon of brown sugar
1/3 cup of sweet coconut shavings (ooptional)
2 cups of water
Directions
1. Combine chia seeds and water in a small pot on a medium heat.
2. Stir the porridge mixture until the consistency becomes thick and no lumps remain (add more water for any desired thickness).
3. Add coconut butter, brown sugar, blueberries, strawberries, and pine nuts to the porridge; mix for 30 seconds.
4. When ready to serve, pour the chia porridge into a clean bowl and garnish with coconut shavings.
xx, The FabFitFun Team