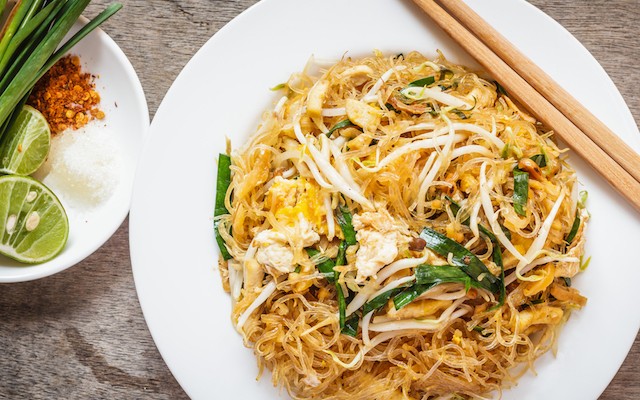 Spring is here and so is our appetite for bold noodle dishes that pack the heat! So what better meal to whip up than a veggie pad thai dish to satisfy all our spicy, sweet, and tangy noodle cravings?
This recipe is an easier and healthier variation of the classic pad thai typically served at restaurants. We used brown rice vermicelli noodles to give us a healthier noodle alternative, and we subbed out sodium-loaded tamarind and soy sauces for nutritious savory and sweet coconut amino sauce instead.
Now you can eat your spicy noodles and be healthy too.
Veggie Pad Thai
Ingredients:
7 ounces pad thai noodles, we used brown rice vermicelli
2 tablespoons grape seed oil
2 eggs, (can omit this step if vegan)
2 cups bean sprouts
1 cup green onion, sliced
1 lime, freshly squeezed
2 tablespoons peanuts, chopped
2 garlic cloves, minced
1 teaspoon crushed chili flakes
1 cup Coconut's Secret Coconut Aminos sauce
2 tablespoon agave nectar
1 tablespoon chili sauce
1/2 cup water plus more if needed
Kosher salt as needed
Directions:
1. Cook the noodles according to the directions on the package, then heat a wok or large sauté pan with grape seed oil, and sauté the minced garlic until fragrant and golden.
2. Add the cooked noodles, stirring frequently to prevent sticking. Remove the noodles, and add the coconut aminos, agave, chili sauce, water, and mix well. Cook for about 2 minutes before adding the noodles back to pan. Stir sauce with noodles well.
3. Make a clear area in pan for eggs to fry for one minute before mixing in with other ingredients. Continue to stir all the ingredients together until the eggs are fully cooked. This should take about 1 minute.
4. Add the bean sprouts, peanuts, chili flakes, green onion, and mix well for about 30 seconds before removing off heat and into a serving dish.
5. Top with lime juice, additional bean sprouts, peanuts, and chili flakes.
xx, The FabFitFun Team