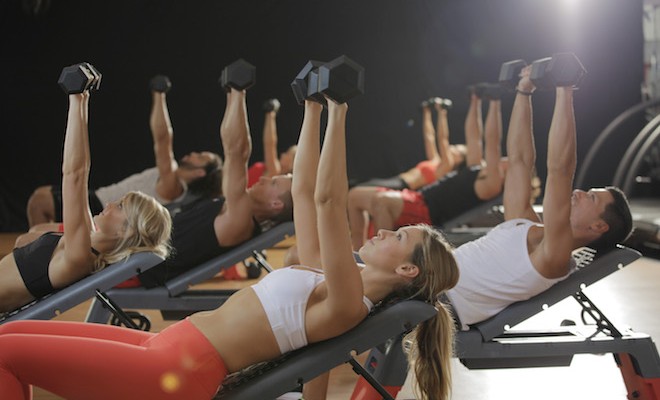 Sponsored by Burn 60
We'll be honest: about a year ago we totally hit a plateau in our workout regimen. The same ol' exercises day after day just weren't doing the trick anymore, and our body was telling us we needed to switch things up. Let's just say our skinny jeans weren't making us feel so skinny anymore.
That's when we found Burn 60 and everything (from head to toe, body and soul) changed!
These full-body interval training workouts are designed to maximize calorie burn and progressively challenge your stamina, speed, and strength. And while we love visiting their LA-based studios, we wanted you to be able to experience the burn no matter where you are! That's why we partnered with Burn 60 to bring FabFitFun members 20 minute, performance-driven workouts; available on FFF TV.
We had a chance to chat with the Founder/Owner of Burn 60, Janet Crown, about the partnership, her fave workouts when she's on-the-go, and more!
Can you tell us why you decided to work with FabFitFun on this launch, what you're most excited about, and what members can expect?
FabFitFun delivers the best in beauty, fashion, and fitness to its members. We believe Burn 60 delivers the best HIIT workout from our innovative, knowledgeable, and challenging instructors. We are a perfect match! We can't wait to share our favorite workouts with FFF members who are on-the-go or in their home. The Burn 60 workout is like lightning in a bottle and FFF TV is an opportunity for us to let it out. FFF members can expect to get their sweat on and see results following our fun, motivating, and effective workouts designed for all fitness levels.
What's your favorite workout to do when you're on-the-go (i.e. traveling, etc)?
When I can't get to class or when I am traveling, I take a Burn "Road Trip" workout with me. Our trainers provide clients with various interval runs they can do indoors or outdoors, combined with a list of great exercises they can do with their own body weight. I also take a deck of cards with me. Try going through a deck of cards doing sit-ups, push-ups, burpees, and squats to the number on each card. A 52-card deck will burn you out.
Do you have any motivational quote(s) you like to live by?
I have two favorite quotes: Maya Angelou said, "My mission in life is not to merely survive, but to thrive, and to do so with passion, some compassion, some humor and some style" — I hope to achieve this mission. I also believe that "80% of life is showing up." Every day brings new opportunities — so just show up with an open mind and good attitude and great things will happen.
How do you encourage yourself to work out when you just don't feel like it?
I look at working out like a meeting that I have scheduled with myself, and bosses don't cancel.
What's your favorite part about helping people get in shape?
When I opened Burn in 2005, my goal was to improve lives 60 minutes at a time. We have taught over 350,000 hours of classes and our clients become family. We burn together as a team. Clients, instructors, and staff become part of a great community. We have created an environment where clients know if they commit to showing up, they leave feeling a little healthier, happier, confident, and accomplished. They carry this attitude with them throughout the day. Time is a precious and diminishing commodity, two characteristics you can never squander. I believe taking a class at Burn is a guarantee to a better lifestyle.
Is there one particular client success story that makes you smile?
After 12 years, it's impossible to pick just one. I have witnessed so many success stories including: proposals, weddings, pre-and post-pregnancies, cancer remissions, a wonderful woman who comes to Burn two times a week to manage her Parkinson's, rehabbed injuries, life-changing weight loss stories (+75 pounds), 5K and 10k, marathons, triathlons, making a team, promotions, clients empowered to do things they never thought they could do because they gained confidence and improved their performance at Burn. I am delighted to say that Burn and our amazing trainers have supported these clients every step of the way. I feel like a proud parent — I am always so inspired by our clients' success stories.
How do you think workouts are changing in the digital realm and with the rise of fitness on social media?
I believe there is nothing better than a live class, everyone pushing towards a common goal and that "other super-achiever" working by your side. However, we can't all get to the gym; so, digital/virtual workouts are a great option. For me, an online video will never replace the contagious motivation of a Burn class or the personalization of our instructor giving you that little nudge or big push, but it is a great alternative for people on-the-go.
How did you keep fitness a priority in your busy life?
Here is a great analogy of which everyone is familiar… "Be sure to put your oxygen mask on first before helping others" …this simply means – you can't take care of anything or anyone else unless you are operating at your peak. Your health should not be a luxury item. You can't buy it. You have to want it. It should be a priority, a commitment to yourself. Life is full of choices. And fitness is a daily choice.
Interested in trying out Burn 60? Sign up at Burn60.com and take your first class for just $10.
xx, The FabFitFun Team