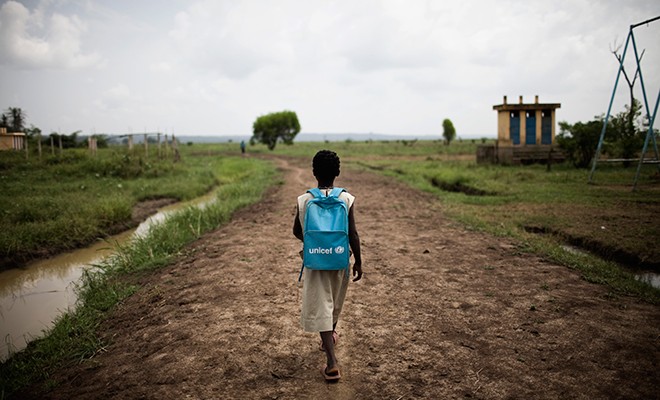 FALL 2017 CHARITY PARTNER
As parents prepare their kids to go back to school, UNICEF USA wants to inspire families to make a difference in the lives of children around the world by helping them receive the same opportunity for an education and a brighter future. Many kids get excited about the backpacks they'll pick out for the school year or which pencils they'll use, but sadly some children don't even have a desk to work on.
This season, we're incredibly honored to partner with UNICEF USA and their efforts to provide every child, like 12-year-old Rosemitha, with the basic right to an education.
Rosemitha lives in Haiti and spent three years without an education because her mother could not afford it. UNICEF was able to provide Rosemitha and hundreds of thousands of other Haitian students with much-needed school supplies and educational materials, including a blue UNICEF backpack to carry her supplies back and forth from school. She returned to third grade and said, "I take my UNICEF school kit with its notebooks, pens, and pencils everywhere with me. I am very careful with my materials, which have to last until the end of this school year."
Another student, 14-year-old Djohnny Jean Paul, also couldn't attend school for several years because his family couldn't afford the supplies, but with UNICEF's help he was able to go back to school. Djohnny said, "I like mathematics, but what I really want for my future is to study hard to become a doctor so I can take care of others." Although school supplies seem simple, they are powerful tools that help children have an opportunity for a bright future through education.
No child should be denied the chance to learn, yet approximately 263 million children and youth around the world are out of school. UNICEF is working to do whatever it takes to support a child's right to learn. Join us this season to support UNICEF and their work to put children first. Learn more at unicefusa.org.
Website: unicefusa.org
Social: @unicefusa
#GotYourBack #ChildrenFirst
xx, The FabFitFun Team