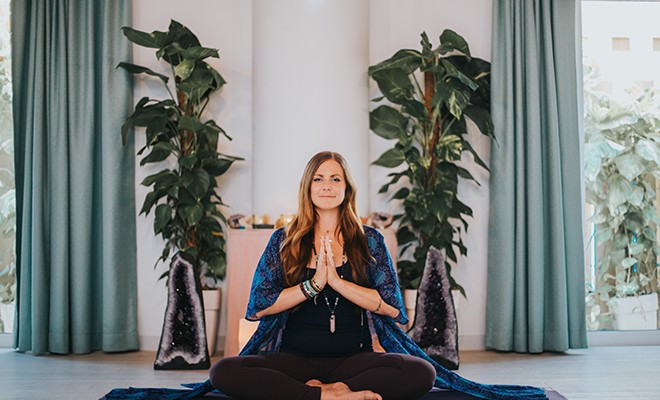 What if you could learn yoga from one of the world's top fitness influencers…right in the comfort of your own living room?
Meet Rachel Brathen, New York Times best-selling author and international yoga instructor, who boasts over two million followers on her Instagram account @yoga_girl – and for good reason. She's also the founder of oneOeight, the world's most heart-centered online yoga community, which offers on-the-go yoga classes to help you connect your mind, body, and soul.
But oneOeight doesn't offer just any ordinary yoga class – their team of amazing teachers and guides understands that while the foundation is in yoga, there's so much more that happens on the mat from meditation to mindfulness and nourishment. And, lucky for you, we've partnered with oneOeight to offer their yoga classes on FabFitFunTV — so whether you want to do a quick flow at the office or give your lower back some love, you'll find a practice that's just right for you.
To learn more about the brand, we chatted with Brathen about what makes oneOeight unique, tips for first-time yogis, and how she motivates herself to work out.
What makes your workout method unique?
The ancient practice of yoga enhances and deepens our physical, mental and emotional health. What we offer [is] an incredible variety of classes for all levels of practice, the ability to choose the length of class, and choose a guide that resonates with you personally. Our collections are well balanced and offer yoga classes for all levels, our yoga teachers are sought after all over the world. Most importantly, we are proud of how accessible our classes are for beginners. Users will not be intimidated to get started and can revisit their favorite classes as their progress grows, without getting bored
What should a first-timer be prepared for when trying your workout?
Remember to go at your own pace, listen to your own body, give yourself time to learn, and adjust to the new movements. Yoga is not about mimicking the way you think a pose "should" look, but about trying out different ways of getting into the shapes with your body, based on what feels the best that day — and to not be discouraged if this changes from day to day! The practice is about finding the yoga that works for you, enhancing body, mind, and spirit.
What's your favorite part about helping people get into shape?
Our favorite part about introducing people to their own yoga practice is the pride they feel from making a commitment to themselves and the tools they gain and take with them wherever they go in life. The practice on the mat can help to balance and create ease in the mind and body, which has a ripple effect on the way people move through life; more confident, healthier, in touch with themselves, and with less injury, and more time and energy to enjoy life!
How do you motivate yourself to work out when you're not in the mood?
The best thing to do is start small. Commit to five deep breaths in a space that has meaning for you, or feels good to be in. Momentum builds and once you complete this, your body will crave more and naturally more movement will follow. It also helps to prepare the night before, maybe queue up your favorite yoga or meditation video so you have [fewer] excuses the next day to get started.
How do you think fitness has changed in the digital realm?
Fitness in the digital realm connects us to global communities and support on a scale that was not possible before. We can now bring our favorite classes, workouts, and yoga teachers with us wherever we go and are not dependent upon expensive memberships to learn how to work out or develop a fitness routine. Furthermore, for those of us that struggle with confidence, anxiety or even limited amounts of time (aka, everyone!), fitness in the digital realm makes it possible for us to exercise in the comforts of our own homes, for a fraction of the cost, without the stressful social barriers that prevent so many from even beginning their health journey.
xx, The FabFitFun Team