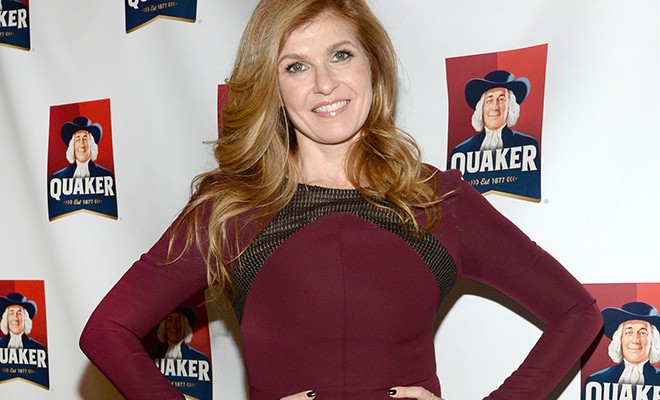 You'd be surprised to learn that heart disease is the leading cause of death for American women…and a recent survey revealed that only 11% of women make minimizing this risk their top health priority.
Even though heart disease is mostly associated with men, the Centers for Disease Control and Prevention reports that "around the same number of women and men die each year of heart disease" in the US. Ladies, it's time to make a change — and Connie Britton (our favorite star from Friday Night Lights and Nashville) is getting a head start on fueling the conversation around heart health awareness for women.
We sat down with Britton to discuss her recent partnership with Quaker Oats and how we, as women, can inspire and encourage ourselves and those around us to lead healthier lives.
What inspired you to get involved with Quaker?
I was really inspired by the work that they've been doing for health. The other thing that made me really want to do this [is because] I like to be an advocate for women. Heart disease is the number one health risk in the country and I don't think a lot of people know that. It's really important for women to be aware of that for themselves and to know that there are ways that they can take care of themselves and reduce the risks of heart disease.
Can you tell us about your experience with your heart health screening?
It was so simple, and that's something I would like women to know — there are really simple basic things they can do throughout their lives that are preventative and helpful. Getting a heart screening is as simple as getting your height and your weight [measured] and a blood pressure test. It's a very straightforward thing you can do with a routine physical and you should take the time to do it. I like to get involved with the conversation with Quaker because I want to encourage women to take the time to do what they need to to take care of themselves.
How do you fuel the conversation about heart disease with women in your life?
I bring it up in conversation all the time. I just know for me when I found that out the first time, it really made me think about the things that I do for myself and even about my heart and my internal health in a different way. I wanted to know…I wanted more information [and] knowledge is power. If I can share that with my friends, it gives another dimension to the way they're thinking they're taking care of themselves. When we take care of ourselves we're more capable of taking care of other people.
How do you like to eat your Quaker oatmeal?
I like to eat it hot and throw in a little bit of coconut oil — very creamy and also very healthful. And then I put in almond milk and maple syrup. It's so delicious and that's how my son eats it. 
xx, The FabFitFun Team