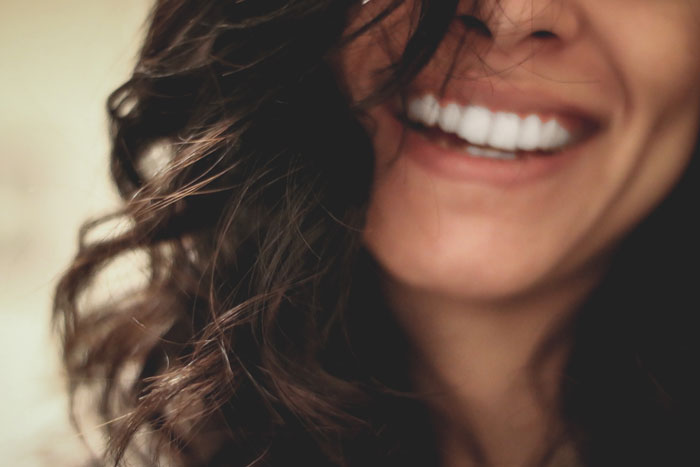 Feature Image by Lesly Juarez
Everyone wants whiter teeth, but most people don't want to resort to harsh chemicals for pearly whites. Well, guess what? It is possible to get whiter teeth without processed whitening strips, gels, and bleaching products.
We asked dental experts to share natural remedies you can do at home for a brighter smile.
Rinse with natural oils
Add this easy step to your morning routine to achieve a whiter smile without damaging your teeth. "Coconut oil, sage oil, and lemon peel oil are the best natural ingredients to use to whiten teeth without damaging enamel or causing sensitivity. The ingredients [are all included in] the Lumineux Whitening Strips, the only certified non-toxic oral whitening strips available that are clinically shown to whiten teeth as effectively as major brands without the harsh chemicals," says Dr. Kourosh Maddahi, a world-renowned Beverly Hills-based dentist.
Drink lots of water
Yes, it's that easy to get visibly whiter teeth. "Drink plenty of water in between meals," says Dr. Michael Florman, orthodontist and dental researcher. Water will neutralize the acid attack while rinsing down the tannins, chromogens, and sugars while keeping you hydrated. This will allow you to produce more saliva, which is the body's best defense in combating acid and sugar attacks."
Avoid certain food and drinks
"In order to maintain a brighter, whiter smile, I would recommend limiting your intake of coffee, red wine, and sodas, which can easily stain teeth," says celebrity dentist Dr. Jon Marashi. "Additionally, foods with heavy colorations such as blueberries, cherries, and even green tea can contribute to a duller smile."
Use baking soda
Baking soda is the old school trick to so many things — whiter teeth included. "Baking soda has natural whitening properties and can reduce bacteria in the mouth," says success and wellness coach Teresa Kay-Aba Kennedy. "Mix two teaspoons of water with one teaspoon of baking soda and brush your teeth with it a couple times per week."
Brush with activated charcoal
"Brushing with powdered charcoal pulls toxins from the mouth and removes stains from teeth," says Dr. Deepak Songra, a dentist from Fresh Breath Dental. Try using a product like the Carbon + Coconut Teeth Whitening Powder and Toothbrush from Molr Dental Club. You'll see a difference in no time.
Maintain a vitamin-rich diet
"The best natural remedies would be foods high in vitamin D, like oily fish, foods high in magnesium, such as leafy greens, and foods high in vitamin K2, like natto and grass-fed butter, and a little more fat in the diet," says chemist Ryan Dixon.
xx, The FabFitFun Team