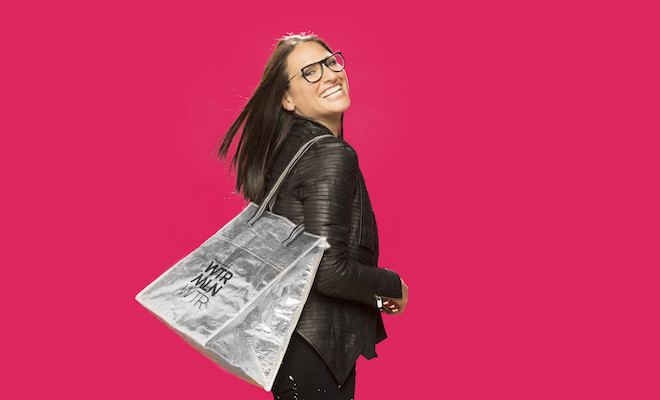 Jody Levy, Co-Founder of WTRMLN WTR, a totally pure and good-for-you watermelon juice, is one of the baddest babes around. And her brand recently partnered with Queen Bey. So yeah, we naturally had to interview her for this month's #WomenWeAdmire column.
From career advice to her favorite Beyoncé song (we had to ask!), and even tips on how to shake off a bad day, check out our exclusive interview with Jody below:
What inspired you to launch WTRMLN WTR?
My friend and co-founder Harlan Berger had the idea to press watermelon juice and shared a staggering statistic that hundreds of millions of pounds of watermelon go unused in America every year. Most of them are tilled back into the soil because the watermelons are imperfect – scarred from the sun, bruised, or misshapen and therefore, grocers and consumers do not want to buy them aesthetically imperfect.
Why watermelons?
We quickly learned that watermelon is truly a superfruit. America's superfruit! One bottle alone has over 6 times the electrolytes of traditional sports drinks, way less natural sugar than many green juices, orange juice, apple juice, and more, and far fewer calories than many hydration beverages on the market.
Additionally, watermelon is packed with L-Citrulline, an amino acid that increases oxygenated blood flow to muscles, making it a great for both pre and post workout performance. It also has the antioxidant lycopene, that can help protect cells from damage, as well as Vitamin C, vitamin A, magnesium, and more!!
What is the philosophy behind the company?
While the concept of pressing watermelons was originally inspired by using ugly waste watermelons, this quickly led us down a path fueled by a passion to provide a clean, accessible, and healthy beverage to all. We launched WTRMLN WTR in the natural channel with Whole Foods Market and other natural retailers, and we quickly started expanding into conventional grocery channels.
Consumers are demanding more from the food industry these days, the awareness around what is in our food supply and how that impacts our health and wellness is rising among all walks of life. People are requesting cleaner, more wholesome products, and the distribution and retailer channels are making it possible for brands like ours to expand farther and faster.
What are some challenges you faced along the way?
The most challenging aspect has been building, scaling, and refining our supply chain and manufacturing processes to meet our growing demand and be as sustainable as possible.
We are also extremely passionate about finding new ways we can help encourage healthier lifestyle habits as we access an increasingly wider range of consumers. We are not just focused on those who are already familiar with cold pressed juices but people from all corners of the country. This process of education takes a lot of time, energy, resources and clever emotional engagement. This is how we utilize experience design practices to tell stories and immerse people in the benefits of our brand.
What has been the most rewarding part of your career?
Watching our company grow at this pace and building a tribe of inspiring people who love what they do. We're all about collaboration and our team thrives as we build a transparent, passionate, happy and healthy business powered by our strong core mission.We are positively impacting American farming and industrial supply and demand.
What is the most important piece of career advice you've ever received?
Be honest and operate in the highest integrity in all you do.
How do you manage to stay healthy when traveling?
I make time to be outside and active. I eat super clean food and make sure I have what I need when I am on the go. I make space for myself to have time to be me and space for whatever will flow to flow.
What advice would you give to a woman looking to start her own business?
Be honest, classy, uphold the highest integrity, be inspiring, strong, compassionate, and have as much fun as possible in every moment. Lead by example. Actions speak louder than words.
What's your guilty vice?
Chocolate and mezcal!
How do you shake off a bad day?
I dance to very loud, rhythmic, underground electronic music.
How does it feel to be a successful woman in business in 2016?
I feel proud of myself and all of the people around me who make 'success' possible. But it is important to note that my definition of 'success' is about living a happy life, surrounding by great humans, doing great work, and inspiring people to be the best version of themselves.
What is your go-to workout?
The REBEL Workout — High-intensity functional training that builds strength from the inside out. My sister, Melissa Levy, is the single most knowledgeable trainer I have ever worked with.
What are some things you do to create a good work-life balance?
I make time in my calendar every day for whatever comes up. This gives me the space to flow and meet my people and say yes to spontaneous adventures.
Did you scream when you partnered with Beyoncé? (Because we did!)
Knowing me I probably cried. I am a Pisces that feels everything. It's my secret weapon. In all seriousness, yes, I am ecstatic to have Beyoncé as a partner and honored to have her recognize not just what we are doing but how we are doing what we are doing. Operating a company culture based on empowerment and collaboration and magic.
How did the partnership with Beyoncé come about?
WTRMLN WTR launched to the world with Whole Foods Market on December, 13th 2013. Serendipitously, the same day Beyoncé dropped her track 'Drunk in Love'. This was the start of a process of getting to know one another and ultimately lead to a conversation about an investment!
What is your favorite Beyoncé song?
Halo.
Is cold-pressed juice the wave of the future?
Clean products without chemicals and added sugar are the future. Consumer awareness about what they put in their bodies and how it impacts their daily wellness and performance is growing and we are doing all we can to help inspire and educate this awareness and change.
What is in store for WTRMLN WTR in the future?
We're purists. Right now our focus is on the mighty MLN. Our mission is to seed change and spread the liquid love.
Anything else you'd like to share with FFF readers?
Follow your dreams. Work hard. Hustle. Make time for magic to flow. Enjoy the process. Only this moment is life.
xx, The FabFitFun Team