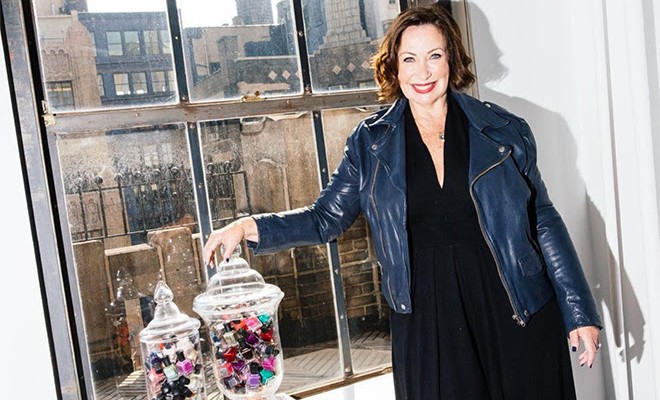 If you're looking for the most sought-after manicurist, it's Deborah Lippmann. She's worked with celebs like Lady Gaga, Salma Hayek, and Jennifer Lawrence (just to name a few) and her manicures have made it onto magazine covers like Elle, Vogue, and Vanity Fair.
So obviously we had to chat with Lippmann about everything nail related. From her favorite colors for spring to picking the right colors for your skin tone, Lippmann answers all our burning questions.
What are some of your must-haves when it comes to nail care?
The treatment products in my collection are a must for maintaining healthy, strong nails. You need a great nail file like Smooth Operator and to keep skin and cuticles hydrated and smooth, use cuticle remover, cuticle oil, Rich Girl Hand Cream, and at least a base coat on nails to protect them even if you don't wear polish – my Gel Lab Pro base coat is a great option.
Do you have any favorite nail art looks this season?
This season, nail art will come into play a bit differently — more minimalistic. Negative space and color blocking will be popular for those wanting to experiment with nail art while maintaining a simpler, more low-key look.
What are your tips for picking the best colors for your skin tone?
Try them on! Just be careful. You shouldn't stand in a store and put on one thick coat of a color. It will not be true to how it will look on your hand. If you do need to try a polish while in the store, apply a single coat, allow it to dry for a minute or two, then apply a second coat. If your cuticle changes color, and becomes more red or pink, the color is not right for you – it may be better suited for a different skin tone. If you can't live without the color, you may be able to wear a light, single layer of the polish.
What's one thing you would want to tell your younger self?
Take off your blinders and step into the unknown! If you're passionate about something, figure out a way to make it happen. But also know that owning your own company is a 24/7 job and you need to be ready for that. There's never a dull moment and it's a constant learning experience, but it will undoubtedly be one of the most rewarding journeys of your life. And you don't always get your own way.
What words of advice would you give young entrepreneurs who are trying to make their start?
Talk to everyone that you can and don't be afraid to approach people — you never know who can offer you some help along the way. You also have to be willing to do a lot of the things you don't want to do, and no one wants to hear that.
xx, The FabFitFun Team
P.S. Psst! Have you signed up for the #FabFitFun box yet? Don't miss out on $200+ in amazing beauty, fitness, fashion, and lifestyle products every season. Join today!
To get the most out of your box products, make sure to check out the Insider page.