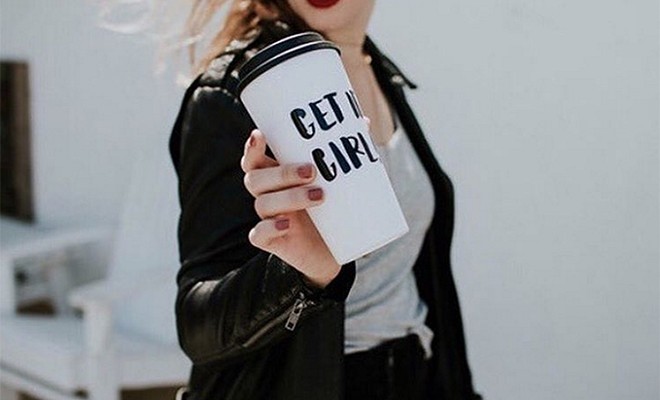 @thecreatedco
Weekends go by way too quickly…and when Monday rolls around, we know you're looking forward to your morning cup o' joe (or five).
While caffeine might give you a much needed energy boost, why not sip coffee in a mug that motivates you to get through those #MondayBlues? We found a handful of cheeky yet encouraging mugs that'll remind you of the #girlboss that you are!
The Created Co. Get It Girl Mug $16.95
We get it, girl. It's hard to get through a Monday but pour your fave dark roast into this mug and get sh*t done.
---
Always Fits Badass and Brilliant Mug $18
Use this mug on repeat. You're badass and brilliant — and you better believe it!
---
Look Human I'm Killin' It Today $15.20
Cat lover or not, remind yourself that you're always killin' it. And it doesn't hurt that this mug is cute beyond words. Meow!
---
Charm & Gumption Messy Bun & Getting Stuff Done Mug $16
Rock that messy bun today and get through that to-do list!
---
Cat Coquillette Little & Fierce Mug $15
Shakespeare wrote these words and they couldn't be truer. Be reminded of your fierceness, all day every day.
---
ban.do Hot Stuff Ceramic Mug $14
Yes, lady. You're the boss! Power through each day knowing that you're the only one in control of yourself and what you can or can't do.
---
Twisted Soul Sisters Wake Up Coffee Mug $20
It's what we hope to do everyday, right? Wake up? Check. Kickass? Check. Repeat? That's the goal!
---
Fringe Be Happy Mug $14
Be happy. Be true. Be lovely. Be you. Remind yourself of these phrases as you start the new week.
---
ByTracey Inspirational Mug $13
Whenever you feel a little dull or uninspired, bring out this mug. Don't ever let anyone stop your shine! You do you, girl.
xx, The FabFitFun Team