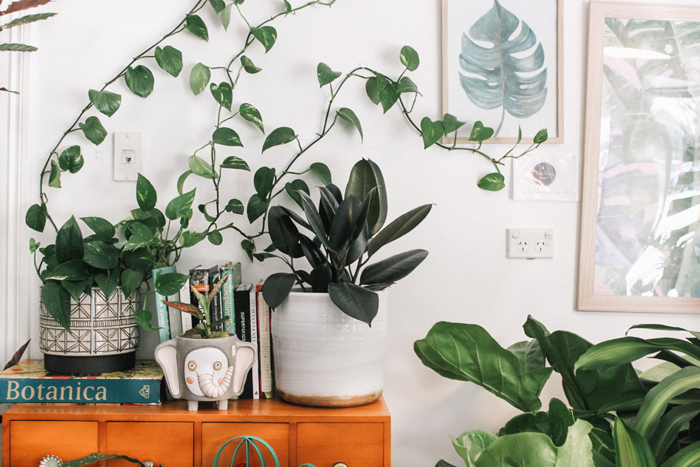 Feature Image by Prudence Earl
One scroll through Instagram and you'll notice that now, more than ever, houseplants are making their big debut. (Seriously, the hashtag #houseplants has nearly six million posts, while #houseplantsofinstagram has just under two million.) After all, as harrowing as 2020 was, it offered us more time at home than ever before. And, with that, came the opportunity to nurture houseplants. 
Now that the majority of our time is spent indoors, we're doing anything we can to create a soothing sense of nature within the comfort of our own homes. Lindsay Koenig, director of merchandising at UrbanStems agrees. "Plants work as an instant mood booster and can help reduce stress and anxiety (in a time we need it most)," she says. "They also aid relaxation and increase levels of positive energy. Now more than ever, having fresh florals and plants around work-from-home spaces brings a sense of renewed calm and focus."
Sounds worthwhile, no? With plants top of mind, keep reading to discover 10 of the most Instagrammed houseplants to inspire your next purchase. 

According to Koenig pointed out, the brand has seen a rise in larger plants like the fiddle leaf — and they are def having their moment in the sun. Quite literally! These indoor houseplants require lots of light, so keep that in mind when purchasing. 
---

Also known as a swiss cheese plant, monsters (another plant that has risen in popularity) are known for their picture-worthy heart-shaped leaves, which naturally form small holes that give the plant its other moniker. To keep it thriving, place it in medium to bright light.
---

According to home experts HomeHow.co.uk, who have scoured through thousands of hashtags to reveal the most popular houseplants, cactus plants reign supreme. In fact, there are more than 23 million posts dedicated to the plant. While cacti are most associated with the desert, they're able to thrive in indoor environments as well.
---
Do you love the look of sprawling leaves? Look no further than a pothos plant. These plants grow into vines, so you can display them across bookshelves, kitchen cupboards, or wherever else you like.
---
Another plant dominating Instagram according to HomeHow.co.uk? The Hoya plant. The little heart-shaped plant is a tropical indoor plant that will make you smile every time you see it. 
---
Known for its air-purifying benefits, snake pants are a great addition to any home. They're the perfect option for folks without a green thumb, as they grow in any light. Just don't leave them out in the cold, as their leaves will wither. 
---
If your home has lots of indirect light, it's the perfect place for a philodendron to thrive. These top-posted plants come in a variety of colors and can range from solid green to more patterned leaves.
---
While often seen hanging on porches, ferns can make wonderful indoor plants too. Just keep in mind that depending on the type of fern you select, it will need a specific amount of light (so do your due diligence). Additionally, know that ferns can shed, so they will require a bit of clean-up.
---
Another air-purifying plant? Aloe. What's more, if you burn yourself, you can clip a small piece off to naturally treat your injury. Cool, no?
---
If you love the idea of adding funky shapes and textures to your home, you'll love this plant. They like bright, indirect light and thrive best near a window. 
xx, The FabFitFun Team