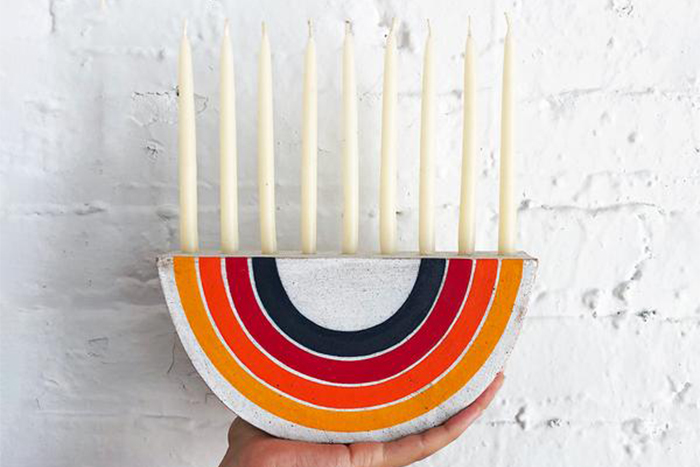 Feature Image by Via Maris Trace Chanukiah
Hanukkah starts on December 10, and if you celebrate the eight-day Jewish holiday, you're well aware that a menorah and candles are an essential part of the experience. But the question is, does your menorah bring you joy? Or have you been using the same one for 20 years just for the sake of tradition?
If you're indifferent about your menorah, it's time to change that! We get it, though — it's strangely difficult to find cool, modern pieces that will fit into your aesthetic. That's where we come in.
Ahead, we've rounded up our ten favorite menorahs for 2020. They're far from boring, and they're perfect for every budget and design taste.
Have you ever seen a chicer menorah? We doubt it. This simple yet sophisticated option is perfect for minimalist design enthusiasts.
---
We love the idea of pairing this silver-and-gold design with metallic gold candles to take its elegance to the next level.
---
Perhaps real candles aren't your thing. In that case, we scoured the internet for a cool-looking artificial menorah, and this one's available in three color options: gold, black, and pewter.
---
If you want a menorah that doubles as home decor, look no further than this whimsical piece designed by the famous American potter.
---
This Target find looks like it should be worth hundreds of dollars. If you know someone who celebrates the holiday and doesn't have a menorah, this is an excellent gift idea that won't break the bank.
---
The twisted vines on this menorah are an immediate conversation-starter for entertaining. "I think of vines as a symbol of love when I see how they grow together, with grace, strength, and vitality," says the designer.
---
You can't beat the price of this adorable menorah — a must-have for dachshund-owners and dog-lovers alike.
---
 This modern, steel menorah will look good in any space. It comes in five different colors, but this rich shade of terracotta is our favorite.
---
Fusing tradition with contemporary design, this menorah is ideal for the entertainer because it will look beautiful on your dining table.
---
Breathe color into your space with this quirky, hand-painted menorah.
 xx, The FabFitFun Team