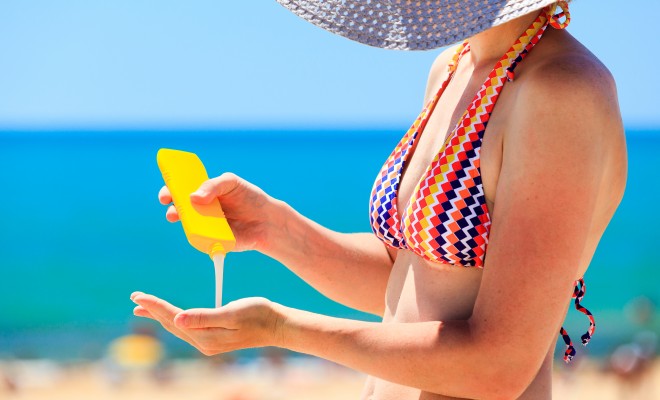 Applying sunscreen — whether the sun is out or not — is the most important step in anyone's skin care routine. If you don't wear it, you run the risk of short-term and long-term effects like sunburn and skin cancer. That's why it's crucial to be as proactive as when protecting your skin.
Unfortunately, there are quite a few mistakes people make when layering on the SPF. Ahead are common errors to avoid so you can get the most out of your sunblock.
Wearing the wrong SPF
The sun protection factor (SPF) indicates how well your sunscreen will shield you from the sun's harmful ultraviolet (UV) rays. Experts recommend an SPF of at least 30, which blocks out about 96 percent of UVB rays — and SPF 50 blocks about 98 percent of UVB rays. One of our favorite sunscreens is the Eau Thermale Avène Ultra-Light Hydrating Sunscreen Lotion SPF 50+ (featured in the FabFitFun Summer Box). This powerful antioxidant protection is perfect for sensitive skin and provides long-lasting hydration. Plus, it has a matte finish — making it great to apply under makeup!
Letting your sunscreen expire
Don't disregard a sunscreen's expiration date. Once the active ingredients in sunscreen expire, it's no longer effective. The change in consistency is a good indication that it may be time to toss the bottle. Also, pay to attention to the storage instructions on the bottle because high temperatures can tamper with the effectiveness as well.
Forgetting to reapply after sweating or touching water
The words "water resistant" don't exempt you from the golden rule of sunscreen: reapply, reapply, reapply. The words "waterproof" or "sweatproof" have actually been banned by the FDA because in actuality, they're only "water resistant" for 40 to 80 minutes.
Only applying it on "sunny days"
Sunscreen is not for just summer days. Make applying SPF a part of your daily skin care routine because the UV rays from the sun are always present (even on a gloomy day). Luckily, sunscreen comes in a variety of forms so you don't always have to slather a cream on your face. Choose from powders, sprays, gels, or anything that suits your skin best.
Not applying the right amount
Most people underestimate how much sunscreen they should use, but there's no such thing as applying too much sunscreen. According to the American Academy of Dermatology, most people need at least an ounce of sunscreen, or enough to fill a shot glass to cover the entire body. Just remember this rule of thumb: the more the better.
Neglecting to seek other protection from the sun
Sunscreen often gives people the false idea that they're safe from the sun. Don't rely solely on SPF and always seek shade when possible. You should also wear protective clothing if you plan on being out in the sun for long periods of time. Keep in mind that applying sunscreen should only be a part of your sun protection regime.
xx, The FabFitFun Team