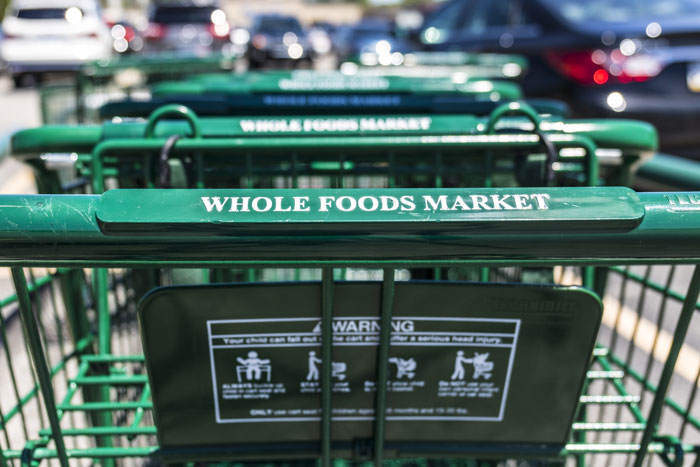 Whole Foods is a crowd-favorite for scoring some amazing culinary finds. But what appears to be a health food lover's paradise at first glance can actually be a place that costs you a few extra dollars and calories.
Below, dietitians reveal 10 common mistakes people make while shopping at this popular grocery store.
Not taking advantage of the seasonal produce offerings
"Whole Foods often offers fruits and vegetables that can be difficult to find in other grocery stores such as fiddlehead ferns, rhubarb, and rainbow chard," says registered dietitian Summer Yule. So take advantage of the incredible selection and pick up some of the unique in-season produce while you're there!
Filling your cart with conventional snacks and desserts
"Just like Whole Foods offers unique produce, [the grocery chain] also offer a lot of unusual ice cream flavors and other desserts that you may not be able to find in other stores," explains Yule. However, it's important to note that these items still have added sugars, refined flour, and oils, so enjoy it in moderation.
Not taking advantage of the bulk section
"If you need just a little bit of an ingredient for a recipe, you can save money by only purchasing what you need in the bulk section," Yule recommends. Try some grains or legumes that are new to you without purchasing an entire package.
Skipping the salad or hot foods bar when you're on a road trip
Yule also recommends picking up a meal at the Whole Foods hot foods bar on your next road trip as it's an easy way to get a balanced meal in. You also won't have to eat in the car (or rely on an unhealthy fast food drive-thru) if you choose to use Whole Foods' in-store dining area.
Missing out on the Whole Kids Club that's available in many stores
"The Whole Kids Club often involves free healthy treats and activities for your kids when they visit the store," Yule says. Best of all, the club is free to join, she adds.
Forgetting about frozen foods
"Although many frozen food products are processed and contain unhealthy additives and preservatives, there are some frozen products worth investing in," says registered dietitian Staci Gulbin. Flash-frozen fruits and vegetables can provide the same fiber and nutrients without it going bad in the fridge.
Purchasing farmed fish versus wild-caught fish
Unlike farmed fish, Gulbin explains that wild-caught fish aren't given any antibiotics or hormones. With this in mind, she recommends opting for wild-caught seafood the next time you visit the Whole Foods seafood counter.
Worrying about the shell color of your egg
"Brown eggs look prettier and cost more, so, of course, you may think that it's more nutritious," says Gulbin. However, the shell color is just from the breed of hen that hatched the egg, she explains, making it just as healthy to choose white eggs versus brown ones.
Buying imported produce
"Always try to choose local produce options," Gulbin advises. Doing so not only helps your local farmers, but the produce is often fresher and more flavorful since local produce is likely in season, she says.
Choosing allergen-free products if you don't have an allergy or intolerance
Unless you have a food allergy or intolerance that prevents you from enjoying certain foods, Gulbin says it's not necessary to purchase such products since it'll likely just cost you more – and in many cases, won't provide any additional nutritional value. This is especially true when it comes to snack foods, bread, and cereal products, she suggests.
Another one-stop shop for all things food? Costco. Here's everything you should and shouldn't buy at the grocery giant.
xx, The FabFitFun Team