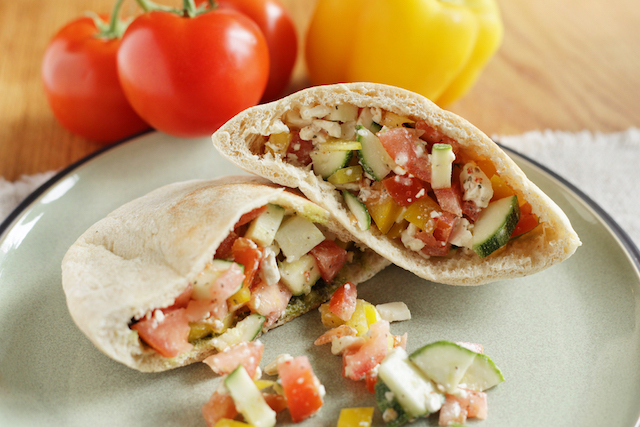 What's better than eating a delicious bowl of Greek salad for lunch? Eating that same yummy salad in a toasted pita sandwich! Greek salads are famous for their bright, fresh flavors– not to mention how healthy the salads are in general.
We felt extra Mediterranean with this recipe; combining not only a Greek salad within a warm pita pocket, but also dressing the salad with a light tzatziki sauce for that extra goodness. (Pita is the perfect type of bread to eat and not feel guilty, due to its low carb content and uh-mazing taste!)
This sandwich is the perfect pre-workout fuel. It's light, satisfying, and gives tons of energy thanks to its complex carb content. You get your healthy dose of veggies and motivation to hit the gym!
Greek Salad Pita Sandwich
Ingredients
2 small-to-medium sized pita pockets
1 large tomato, diced
1/2 yellow bell pepper, diced
1/2 cucumber, diced
1 ounce Feta cheese, crumbled
2 tablespoons Greek yogurt
1 teaspoon fresh lemon juice
1/2 teaspoon dill, fresh or dried
Salt and pepper
Directions
1. In a small bowl, mix together the lemon juice, Greek yogurt, dill, and salt and pepper to taste. Set aside.
2. In a large mixing bowl, combine the tomato, cucumber, bell pepper, and Feta cheese all together. Salt and pepper to taste.
3. Add the citrus yogurt dressing to the large bowl with the fresh veggies, and stir until everything is well combined.
4. Scoop the Greek salad mixture from bowl into pita pockets, and serve immediately.
xx, The FabFitFun Team