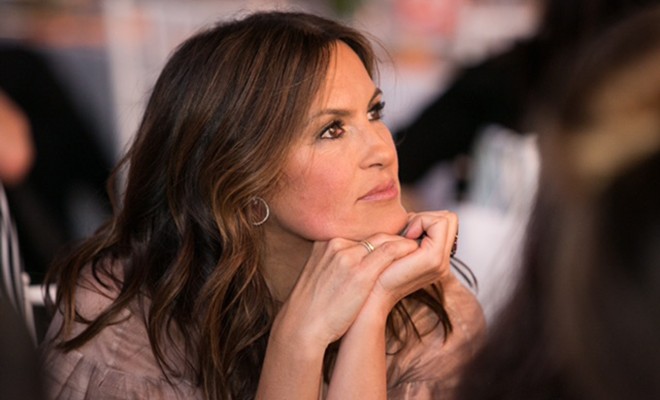 Have you ever been such a huge fan of a TV show that you felt like the characters were your friends? Like they were someone you could tell your deepest secrets and fears to? For some viewers of Law and Order: Special Victims Unit, Mariska Hargitay (who plays detective Olivia Benson on the series), is that person.
When Mariska began her role on Law and Order: SVU more than 17 years ago, the content of the scripts as well as the research she did to prepare for the role opened her eyes to the epidemics of sexual assault, domestic violence, and child abuse. But what really opened her eyes–and subsequently, her heart–were the thousands of emails and letters she received from survivors disclosing their stories of abuse, many of them for the first time. She knew that they needed a place to be heard, believed, supported, and healed, so in 2004 Mariska founded the Joyful Heart Foundation with the intention of helping survivors heal and reclaim a sense of joy in their lives.
I am proud to stand with survivors, advocates and members of the criminal justice community to send a powerful message to other survirs: 'We hear you. You have suffered enough. Your healing–and pursuit of justice–are our priorities.' – Mariska Hargitay, Joyful Heart Foundation Founder and President
Today, Joyful Heart Foundation is paving the way for innovative approaches to treating trauma, igniting shifts in the way the public views and responds to sexual assault, domestic violence and child abuse, and reforming and advancing policies and legislation to ensure justice for survivors. Since its inception, Joyful Heart has raised $33.5 million and leveraged more than $147 million in donated goods and services to end this violence forever. The organization has reached more than 18,700 survivors and healing professionals with its transformative programs, connected over 4.25 million visitors online to provide resources and life-saving help, and has effected policy changes in jurisdictions from New York to California–including enacting rape kit reform laws in 14 states in 2016.
The weight of these crimes doesn't have to be carried alone. Join the joyful revolution by getting involved, learning about these issues, making a donation, hosting a fundraiser, or simply listening–without judgement–to a survivor who shares their experience.
At FabFitFun, we're committed to Joyful Heart Foundation's mission to transform society's response to sexual assault, domestic violence, and child abuse, support survivor's healing, and end this violence forever. It's with great honor that we've partnered with them for our Summer Box. In each box, you will find a beautiful Michael Stars x Joyful Heart Foundation Ruana in support of the cause.
xx, The FabFitFun Team