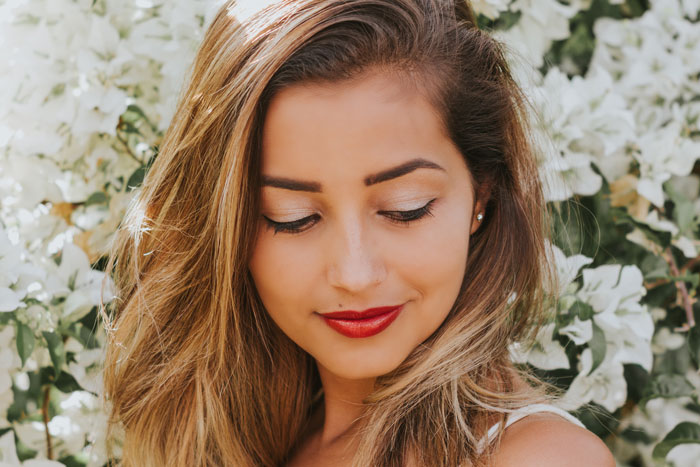 Feature Image by Meireles Neto
The art of makeup is both fabulous and daunting. While there are tons of amazing looks to choose from, the endless selection can often be overwhelming. So why not take the stress off and let the cosmos decide your perfect look?
Even if you don't keep up with astrology, matching your personality to a beauty trend is a great place to start. Below, we've uncovered the one makeup trend you should try ASAP based on your zodiac sign.
Capricorn (December 22-January 19) — Next-Level Lashes
Capricorns typically stick to tradition but love to indulge in a glam look every once and while. Use the new year as an opportunity to rock big, bold lashes. Whether you opt for falsies or a length-boosting mascara, you're sure to entrance anyone you meet with those stunning peepers.
---
Aquarius (January 20-February 18) — Bold Red Lip
There's nothing like a bold red lip to make you feel like a total girl boss. Use the color to bring out your inner tenacity and help you face your fears for the best year yet.
---
Pisces (February 19-March 20) — Clumpy Eyelashes
Your friends know you have a wild imagination because of that far-off expression in your eyes. Enhance your best feature with this dreamy look that's stood the test of time (thank you, Twiggy!)
---
Aries (March 21-April 19) — Red Highlighter
Since Aries is ruled by the passion planet Mars, it's no wonder this star sign would embrace a fiery look that flatters nearly every skin tone. Seen in the Fenty Puma by Rihanna Spring/Summer 2018 runway show, the red-toned highlighter looks even more natural than its gold counterpart.
---
Taurus (April 20-May 20) — Unexpected Eyeliner
For an added boost of confidence, try wearing eyeliner in unexpected ways to spice up even the most basic beauty look. We're obsessed with upside down eyeliner, especially when it's paired with a bit of bronzer and a classic rosy lip.
---
Gemini (May 21-June 20) — Two-Toned Eyeshadow
Being the collaborative spirit that you are, you firmly believe that good things always come in pairs. Enter: two-toned makeup. The stunning contrast of colors will take your makeup to new heights while allowing you to still stick to your roots.
---
Cancer (June 21-July 22) — Glossy Eyeshadow
Love is definitely in the air for you this year, Cancer. Turn up the romance factor with an all-over glossy look for your next date night.
---
Leo (July 23-August 22) — Thumbprint Eyeliner
Leo's aren't afraid to stand out in a crowd, so a thumbprint eyeliner is a perfect style to let your creative flag fly. Popularized by A-listers like Gigi Hadid and Selena Gomez, this statement trend is surprising yet chic.
---
Virgo (August 23-September 22) — Lip Tint
While you may be the most practical of the bunch, you'll never settle for anything boring. Thus, a lip tint is a nice compromise between trying something new and going over the top. We love that this look is bolder than a balm but not quite as vibrant as a lipstick.
---
Libra (September 23-October 22) — All-Over Eyeshadow
This stunning look is bound to make you the center of attention. 2018 is all about growth, and there's no better way to step into your own than with an all-over eyeshadow look. Leave your neutrals at home and command the spotlight with electric colors like blue, green, and ultraviolet.
---
Scorpio (October 23-November 21) — Yellow Eyeshadow
Scorpios are extremely driven individuals, so success is sure to follow you wherever you go. Usher in a season of exciting new achievements with this sunny hue that inspires cheeriness.
---
Sagittarius (November 22-December 21) — Not-So-Subtle Glitter
Curious and energetic, you're a free spirit that doesn't shy away from whimsy. Exude your inner child this year with glitter accents. Use sparkles to replace your favorite highlighter or eyeshadow when you're ready to party the night away.
xx, The FabFitFun Team