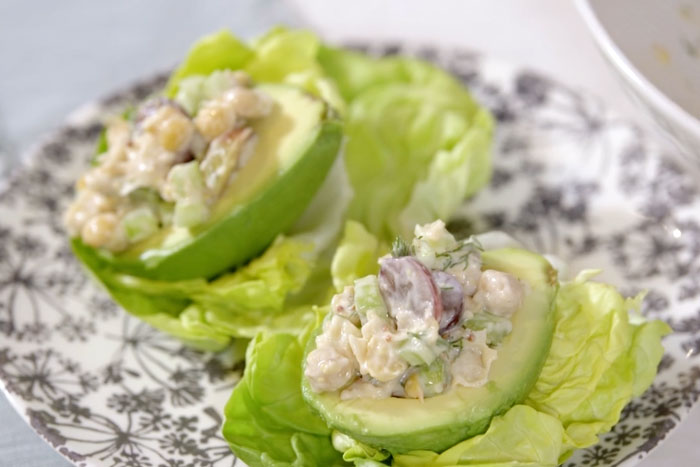 SPRING 2018 FABFITFUNTV PARTNER
Do you think vegan food tastes bland? Or it's too hard to make? Well, Leslie Durso might just change your mind.
Why? She's a vegan chef, healthy living educator, and partner at PLANTLAB (a vegan culinary school) who's been plant-based since she was eight-years-old. Plus, she broadcasts her original farm fresh recipes to over 130 countries via LeslieDurso.com and has hosted cooking segments on The Food Network, The Discovery Channel, Everyday Health, and more. So, yes, let's just say Durso knows a thing or two when it comes to whipping up a mean vegan dish.
And, most importantly, Durso hopes to inspire beneficial life-long eating habits and make plant-based recipes readily accessible to anyone — which is why we're so excited to bring Durso's recipes straight to FabFitFunTV (if you're not a member yet, sign up today!).
We sat down with Durso and chatted about where she finds inspo for her recipes, her favorite meal to cook as of late, and five ingredients she always has in her pantry. Bon appetit!
Where do you find inspiration to create new and original recipes?
I'm inspired mostly by my travels. Getting to taste new and interesting ingredients and flavor combinations is beyond exciting to me! Bringing the techniques home and applying them to plant-based cuisine is my passion.
What has been your favorite meal to cook as of late?
My all-time favorite recipe to cook is my great grandmother's ravioli. It's the first thing I ever learned how to make by watching her roll it out for hours. I altered her recipe by creating a plant-based version, but I still think of her every time I make it.
Any advice for working women who can't find time to cook?
I think finding time to cook at home is just as important as finding time to go to the gym. There is no replacement for knowing every ingredient going into your food. Planning ahead and meal prepping can be great, but if you are a last-minute decider like me, it's even better to have some go-to, quick, simple recipes that you can make with very few ingredients. If you have to eat out, make sure to eat whole food items and try to stay away from packaged and sugary foods.
What are five ingredients you always have in your fridge/pantry?
Dried pasta, Bianco DiNapoli canned tomatoes (the best on the market and they don't pay me to say that), mushrooms, greens, and fresh herbs.
What kitchen item is worth investing in?
The item that will excite you most to cook with it. For me, a high-powered blender is a must!
Any tips on how to find quality ingredients at the most competitive price?
There is no more competitive price than growing your own food. If you can grow even one or two things at home, you'll be surprised how much better it tastes because of the love and pride that goes into it! If you don't have space or don't have a knack for growing, the farmers' market is definitely the way to go. So much beautiful produce at a great price and you get the pleasure of meeting the farmers!
xx, The FabFitFun Team