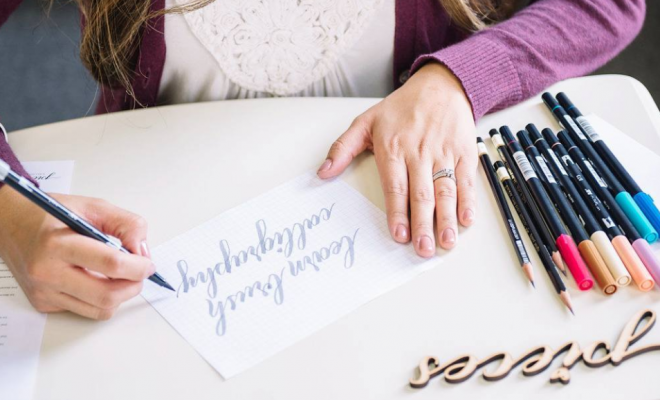 @piecescalligraphy
The Internet is like an on-demand classroom. With tons of people sharing their skills and talents on YouTube, you can now learn almost anything with the right tutorial.
If you're a secret calligraph-fiend who has always wished to be able to do it yourself — wish no more and actually do it yourself! These YouTubers will take you teach you how, every stroke of the way.

Pieces Calligraphy
This channel is filled with in-depth, thoroughly explained videos on everything from how to hold your pen and create a basic stroke to which tools are best for certain effects. Even beginners with zero experience will be able to follow along!
---

Erin Nielson
Erin has a video tutorial dedicated to writing every single letter in the alphabet — perfect for perfectionists who want to get it just right. If you want to venture further creatively, she also has videos on making watercolor floral designs, which serve as beautiful accents to decorate your words.
---

Shayda Campbell
Experiment with different fonts, accents, and effects! Shayda's fresh take on modern calligraphy will teach you the perfect skills for bullet journaling, doodling, or creating designs that almost look professional.
---

AmandaRachLee
Queen of bullet journaling, sketching, and DIY, Amanda is a true creative who will teach you how to make your handwriting (and life) more beautiful! Her videos are great for those with a base knowledge of calligraphy and lettering — you'll gain tons of inspiration from her work.
---

kellycreates
Binge on "oddly satisfying" calligraphy videos as you take in all of the tips and tricks on Kelly's channel. She will teach you so much about the joys of creating.
xx, The FabFitFun Team