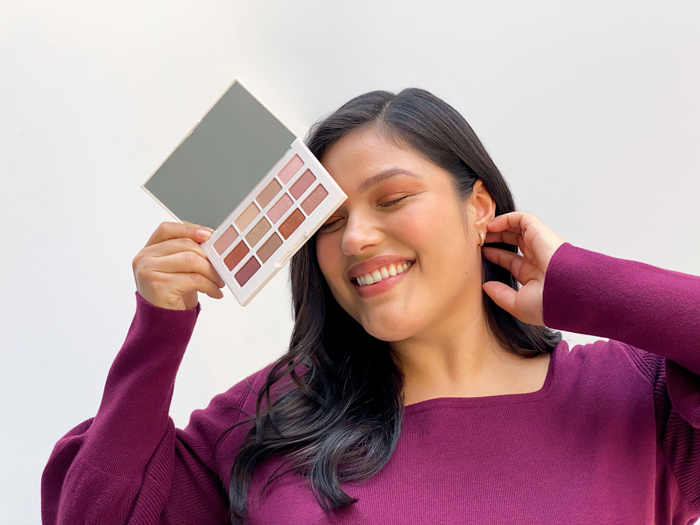 Playing around with different looks is at least half the fun of makeup, but it's always nice to have a go-to look you can turn to for any occasion. Laura Geller, the founder of Laura Geller®, shares her favorite eyeshadow look using her Cinnamon + Spice Eyeshadow Palette. This tutorial looks great on any skin tone and is perfect for day or night.
"The best color combinations are warm colors with a touch of cools," says Geller. "This palette delivers just that. No matter what your eye color or complexion there's a color for everyone that enhances and magnifies."
Follow the steps below for her favorite eyeshadow combination, and don't forget to share your eyeshadow looks with us! @fabfitfun #fabfitfun
Step 1
"Start off with shade 'Oat Milk' for a warm base coat or shade 'Sweet Foam' if you prefer a cool base."
Step 2
"Mix with shade 'Cold Brew' as great all over shadow color for any smoky eye look."
Step 3
"I love 'Livin' La Vita Mocha' as a crease color, use on the outer corner of your eye into the crease for shading and adding dimension. If you like a little more subtle eye look, use 'Apple Cider' as your crease shade."

Step 4
To add some drama to your look, try topping the shadow with a swipe of liner. Aesthetica Liquid Eyeliner's felt-tip applicator makes it easy to control how thin or bold you want the line to be.
Step 5
If you want to add a bit more color to your look, apply the Phase Zero Makeup Making Moves Blusher on the apples of your cheeks and blend into your temples. You can also lightly brush across your nose bridge for a warmer look. Finish off the look with mascara, like the ILIA Beauty Limitless Lash Mascara! First, curl your lashes. "Once curled, gently wiggle the shorter side of the brush from the base of your lash line to the very end. This upwards motion will help set the curl in place so your lashes stay lifted all day long. Then, comb through with the longer bristles to lengthen and separate with precision," says Sasha Plavsic, founder of ILIA Beauty.
xx, The FabFitFun Team
Psst! Have you signed up for FabFitFun yet? Don't miss out on $200+ in amazing beauty, fitness, fashion, and lifestyle products, access to exclusive fitness and cooking content on FabFitFunTV, members-only sales, and more. Use code SHIMMER at checkout for 20% off your first box.
To get the most out of your box products, make sure to check out the Insider page.