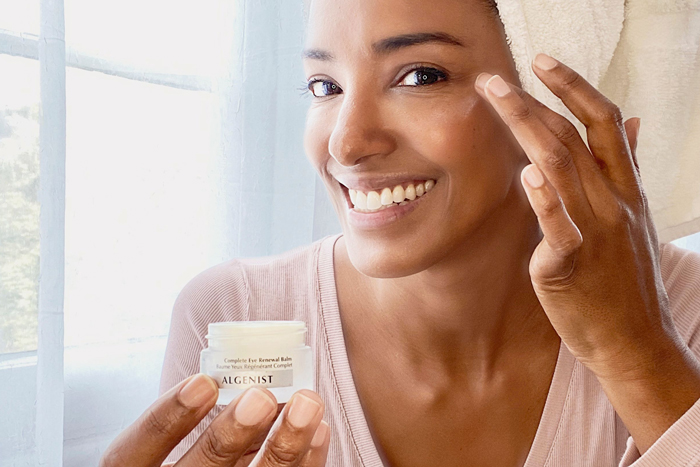 The thinnest and most sensitive skin is that surrounding your eyes, making the area easily susceptible to puffy bags, dark circles, and, for many, the first signs of aging.
Thankfully this news isn't all bad with dozens of highly-effective eye creams on the market today to fight every under-eye concern — it's just a matter of finding the right one.
Eye creams run the gamut in tackling every skin care frustration, which is why we've broken down the best products to try now for each concern, and key active ingredients to look out for.
Best for Fine Lines and Wrinkles
The delicate tissue surrounding the eyes can lend itself to premature aging, but with the help of powerful active ingredients like retinol and its less invasive derivatives, wrinkles diminish with increased collagen production.
This top-rated retinol eye cream incorporates its own mineral complex to fight not only wrinkles but also puffiness and dark circles for a full anti-aging eye regimen in one small tube.

The natural eye cream packs the skin with pro-retinol, a gentler form of the collagen production agent, along with vitamin C and grape seed extract to target under-eye lines and dark circles.
---
Best for Firming
As eye contour elasticity weakens, most bestselling eye products turn to ingredients like peptides, caffeine, and even algae. These are known to quickly and effectively tighten the skin and, like retinol, support collagen production.
This tightening eye gel incorporates Chromabright and peptides to counteract uneven pigmentation and firm up the skin, while pullulan and various antioxidants also contribute to cell turnover for an overnight refresh.
Inspired by classical Japanese beauty secrets, Tatcha continues with its holistic skin care approach with this eye serum. It incorporates Okinawa red algae, honeysuckle leaf, and caffeine, instantly tightening the contour area and soothing puffy eyes.
---
Best for Sensitive Skin
Those with sensitive skin are typically advised to stay away from non-aggressive active ingredients, and this applies to the delicate eye area as well. You can apply these gentler creams confidently up to twice daily.
This lush eye cream incorporates avocado oil for a swab of rich, quality hydration the New York cult-brand is known for.
This lightweight eye gel formula turns to peptides and hyaluronic acid to tighten and lock in moisture — combatting signs of aging and general exhaustion.
---
Best for Dark Circles
The causes are endless: fatigue, allergies, sun exposure, or genetics can leave discolored dark circles under the eyes. Vitamin C and collagen combat the cycle for an instantly brighter appearance.
A proper dose of hydration does wonders for dark circles and under-eye bags. The super-rich formula uses patented alguronic acid for natural skin renewal. It's also with vitamin C, caffeine, cucumber, and green tea extracts to reenergize the eye contour for quick and easy results. P.S You can get this eye cream  FabFitFun Winter Box!
Created for easy make-up application, the cream's thin texture uses vitamin C to naturally refresh the eyes with a yellow tint for a wide-awake finish ready for the day's concealer.
The go-to beauty aisle brand introduces another bestselling product with this eye cream. It increases collagen levels and combats dark circles with a Power 5C Vitamin Complex, 8 different peptides, and chilling cucumber extract.
---
Best for Under-Eye Bags
Different from dark circles that appear after a bad night's sleep, under-eye bags cause swelling and puffiness with the dreaded stamp of "tired eyes."
Much like our own morning routines, this cream turns to caffeine for a jolt of morning energy, paired with botanical extract cocktails to get rid of puffy eyes. The Filmatrix Technology also coats a thin film onto the skin for firming.
A cocktail of antioxidants, this de-puffing eye cream uses its black tea complex of kombucha, black tea extract, blackberry leaf extract, and lychee seed extract for naturally-nourishing results.
xx, The FabFitFun Team