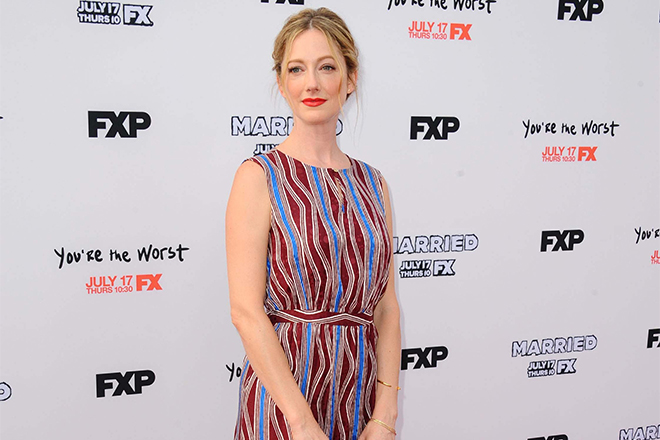 Whether you remember Judy Greer from 13 Going on 30 or The Wedding Planner, you most likely know her as "that girl from that movie/TV show."
She's one of Hollywood's busiest actresses and also happens to be as down-to-earth as she is funny. Greer is currently directing a film, maintaining her partnership with Lactaid, and filming for a few movies. She's actually so busy that her husband makes her coffee for her (never mind that she actually doesn't know how to use a coffee machine).
So of course we were super excited when Greer had a brief moment to chat with us about everything from her directorial debut to her favorite shows on Netflix.
How did you get involved with Lactaid and the "No More Dairy Envy" campaign? 
Well, I have a sensitivity to dairy and I was using Lactaid. They bought it for me at work because it's real milk, just without the lactose. I was using it in my coffee in the morning and we sort of found each other out there. I was excited because I was always jealous of people that could have dairy and now I can too because of Lactaid — like ice cream, the Lactaid milk, and their cottage cheese!
What's your favorite guilty pleasure when it comes to food?
I love cheese so much, but because of my dairy sensitivity I stopped eating it. My favorite thing is Lactaid's cottage cheese, though. I love it so much. I put it on everything like toast, chili, or soup. I [also] just have scoops of ice cream and make a little sundae with strawberries and hot fudge.
What's your typical morning routine?
I get up early and the first thing I try to do is meditate. I do transcendental meditation for 20 minutes. While I do that, my husband makes us our coffee. I know I can't use the coffee maker but why would I if he's going to do that? He always sets the timer to go off when I finish meditating and I'll have a cup of coffee with Lactaid. And if I have time, I'll take my dog on a walk or outside to go to the bathroom. It's gross. I'm never able to sleep in which is a bummer.
Congrats on your directorial debut! How has it been so far?
Well, it's definitely spending my brain. I've never been a part of this much of it. It's been really interesting and I've been learning so much. I'm enjoying crafting the story and all the different components going into it. I love watching all the actors in my movie — I just don't get sick of it. It's just stretching myself and finding different ways to be an artist and I really love it. And I get to wear more comfortable shoes which is great. I have tennis shoes now which I never used to wear.
How do you manage work-life balance despite filming, directing, and just being one of the busiest actresses in Hollywood?
It's really hard actually. I'm trying to find one now but I guess my personal life is the quadrant that always gets the least attention. But I'm really working on it and I have the best husband in the world and he's super supportive. We're careful to make sure we have date nights scheduled on the calendar. Not like, "let's hang out this weekend" but we make reservations for dinner and make sure we have that on the books.
Any shows you're binge watching on Netflix?
I love Stranger Things and I watch Unbreakable Kimmy Schmidt. Whenever I'm feeling dark, sad, or overwhelmed, I watch Unbreakable Kimmy Schmidt and I'm instantly happier.
Are there any women in particular who are inspiring you right now?
All the women in my life really inspire me. [Some] inspire me to be better because they're not great, and some of them are really great and they inspire me to be more like them. You kind of have to take inspiration from anywhere you can get it. Even from someone who is rubbing you the wrong way.
xx, The FabFitFun Team