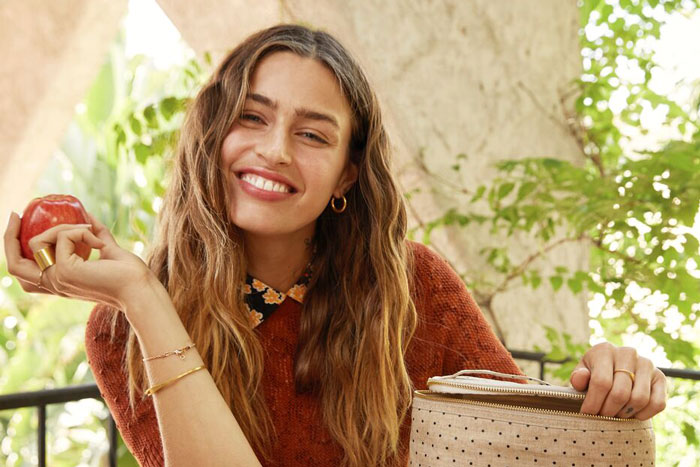 FALL 2019 BOX PARTNER
No matter your age or stage in life, there's always something new to learn. Want to try yoga? Considering a career change? Whatever it is, just know that it's never too late to follow your curiosity. This article is a part of our "It's Never Too Late To…" content series. For more on this series, check out how the BaubleBar co-founders transitioned out of finance and a FabFitFun member's advice for every fitness journey.
Whatever your age, body type, or health status, one thing you have unfaltering control over is your diet. But common excuses like "eating healthy is expensive" or "healthy meals are limited to fruits and veggies" can deter you from wanting to improve your diet.
Well, Mia Ridgen, a licensed holistic health coach, wants to change your perspective on healthy eating. She says, "[A healthy body] is our natural state of being; our bodies are incredible and engineered to heal themselves. Just give your body the right tools, and you will be amazed," she says.
Ahead, Ridgen shares realistic tips that will motivate you to start eating healthy below.
P.S. You can get wellness and lifestyle products that help you live healthier when you sign up for FabFitFun. Use code FALLVIBES at checkout for 10% off your first box.
Add, don't subtract
"When starting out, focus on adding to your diet rather than restricting. I like to focus on eating more vegetables, and a greater diversity of it. Try 10 to 20 different vegetables a week. I know that sounds like a lot, but herbs and different types of lettuces count. Once you get started, you'll realize it's not as difficult as it sounds," Ridgen suggests.
Make small changes
"We often see healthy eating as this time-consuming practice, but it could be as simple as ordering a side of broccoli when you're out to dinner with friends," says Ridgen. "Small changes over time will make a big impact. Just changing one meal can account for 20% to 30% of your total food intake," she adds. Another way to ensure you eat healthier is by making an effort to meal prep whenever you can. It forces you to be more intentional and mindful of the food you eat. Plus, it doesn't hurt packing your lunch in an adorable tote like the kate spade new york Lunch Tote, which features a cute polka dot print and insulated interior.
Change your perspective
According to Ridgen, "Healthy eating isn't expensive, but rather processed and fast foods are cheap. Statistically, Americans spend much less on food than our European counterparts, and research shows that we pay for it later with health care costs. Think of healthy eating as an investment in your future, not a debt for the present. Go to the farmers market, buy frozen organic vegetables, or grow your own herbs at home," she says.
xx, The FabFitFun Team
Psst! Have you signed up for FabFitFun yet? Don't miss out on $200+ in amazing beauty, fitness, fashion, and lifestyle products, access to exclusive fitness and cooking content on FabFitFunTV, members-only sales, and more. Use code FALLVIBES at checkout for 10% off your first box. #yourewelcome
To get the most out of your box products, make sure to check out the Insider page.