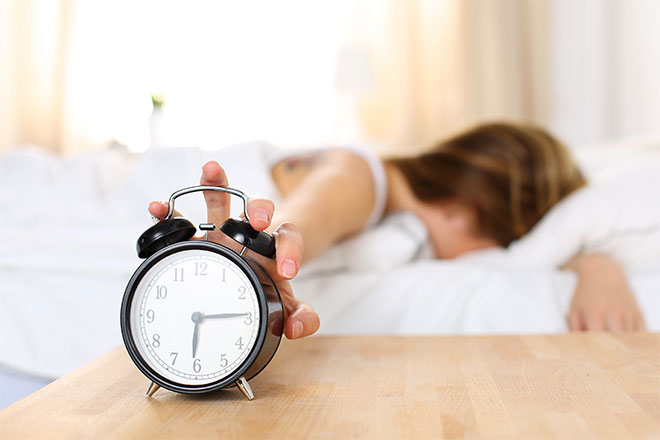 The snooze struggle is real. If you're like us, waking up in the mornings is no easy feat — but it doesn't have to be. With a few good habits and the right technology, you'll be up and at 'em in no time.
Check out these five iPhone apps to help make early morning wake-ups a breeze.
Sleep Cycle
In an effort to wake you at the most optimal time in your sleep pattern, Sleep Cycle alarm clock tracks your sleeping patterns through sound and vibration analysis picked up from the microphone and accelerometer in your iPhone. This app is perfect for those looking for a more gentle wake-up call.
SpeakToSnooze
SpeakToSnooze is a smart alarm clock that responds to the sound of voice commands like "snooze alarm" or "what time is it." You can even set the app to respond to you in different voices and accents. Sounds like a jolly good time!
Step Out of Bed!, $1.99
Step Out of Bed! uses the image recognition and step tracking technology built into your iPhone to get you moving first thing in the morning. Only after you take a specified number of steps or take a picture of a designated landmark in your home (i.e. the coffee maker or bathroom sink) will the alarm go off. Step Out of Bed! is perfect for those who struggle to peel themselves from the comfort of their bed.
CARROT Talking Alarm Clock
CARROT is a talking alarm clock aimed at waking you up with a smile on your face. CARROT will have you laughing in no time through her variations of witty and humorous dialogue. You can earn points for waking up on time or face the wrath of CARROT if you snooze too much.
Wake Alarm Clock
Wake is a beautifully designed and intuitive app looking to simplify the waking-up process. Wake offers three different alarm styles, including the ability to slap, shake, or swipe your phone in order to snooze or turn off the alarm. From heavy sleepers to light dreamers, Wake is the perfect alarm clock for the design-conscious.
xx, The FabFitFun Team