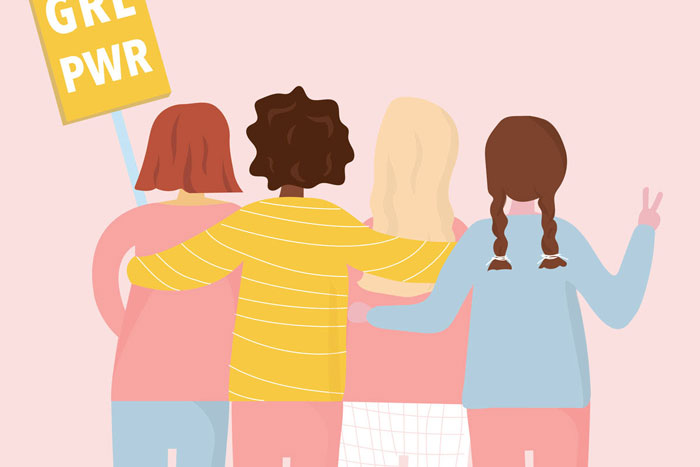 Here at FabFitFun, we're so proud to have built a community of hardworking, passionate, and seriously inspiring women who lift each other up on a daily basis (aka you!). Plus, the FabFitFun office is made up of 62 percent women (52 percent of senior directors and executive positions are held by women, by the way) and we make a conscious effort to work with brands that are led by female entrepreneurs.
So in honor of International Women's Day, which recognizes the achievements of women past and present, we asked some of our favorite badass female leaders to share inspiring words on topics many women experience like building confidence, pushing through adversity, and staying authentic.
Loving Yourself
As women, we're far too often our own worst critics, and that self-doubt and comparing ourselves to others is damaging to our overall success. So for the next time you need a self-love reminder, take note of the encouraging words below.
"Never let anyone dictate what you can or cannot do. You are the only narrator of your life. Now go narrate the hell out of it." – Katie Echevarria Rosen Kitchens, Co-Founder and Editor-in-Chief at FabFitFun
"Practice gratitude every day. You'll be surprised by how many small and large wins you have each day once you start paying close attention." – Lindsay Ellingson, Co-Founder and Creative Director of Wander Beauty
"Embrace what makes you unique. I think one of the most attractive things a woman can be is interesting. It means that she has spent time learning who she is, has accepted her quirks, and makes no apologies for the brilliant and radiant person she has become." – Michelle Paull, Director of Style Creative at FabFitFun
"Life is about you, so be kind to yourself (don't forget about you!). You are the best when you care about yourself first, then you can be there for others when they need you" – Karen Ballou, Founder and CEO of Immunocologie
"Know what needs to be done – all of the ins and outs of your business…and focus on what you love about your work. Find the right people to work with, be sure to connect to your purpose, and always lead with authenticity." – Gloria Noto, Founder of NOTO botanics
"Whether you realize it or not, you are someone's reason to do better." – Jessica Frandson and Jill King, Founders of CAMPO
Overcoming Obstacles
It's no secret that women face a special variety of hardships – both in life and in the workplace – but it's overcoming those obstacles that make us stronger. And when we lift each other up and support other women in those times of adversity? Well, nothing can stop us.
"Embrace obstacles as an opportunity to triumph. When faced with obstacles, you can either let it break you or make you. Looking back, I'm grateful for my obstacles because I've overcome them. It's shaped who I am today. It's shaped my values and perspectives and has helped me become a more loving mom, a stronger entrepreneur, and a better person." – Jennifer Yen, Founder of Purlisse
"Don't overwhelm yourself! If you're having a hard time with something, instead of looking at the long road ahead, just focus on the step in front of you and take it one step at a time. Focusing on the things you can do immediately versus all the things you can't do yet can make things a lot less overwhelming." – Nika Chapel, Project Manager of Influencer Marketing at FabFitFun
"Everything happens for a reason. It sounds cliche, but facing obstacles and going outside of your comfort zone is how you grow, learn, and get stronger. Don't be afraid of a challenge!" – Betty Saponar, Senior Product Manager at FabFitFun
"Obstacles are part of the journey and serve as learning experiences – that which does not kill you makes you stronger. I have learned that if it can go wrong, it will. You need to get up, dust yourself off, and get back to work." – Dara Levy, Founder of DERMAFLASH
Work-Life Balance
We're so determined and motivated, that oftentimes, we work and work until we're burned out. That's why it's important to find time for self -care and to spend time with your loved ones.
"You perform your best when you're feeling your best. I used to bring work home, but I've made it a point to not do that unless absolutely necessary. I make sure to take time for myself and do things that bring me rest and that I actually enjoy doing. It gets me in the right headspace to stay motivated at work." – Debbie Yoon, PR Manager at FabFitFun
"As a founder and leader, one of the things I impress upon my team is the importance of a healthy work-life balance. You absolutely cannot be successful without it." – Cheryl Yannotti Foland, Founder of lilah b.
"As I lead my company, I find myself wearing many hats. My mommy hat is my favorite. I wear it proud and hope to be an inspiration to my children by showing them you can run a business and have a fulfilling family life at the same time. It's not always easy, but mapping out your day allows you to ensure a healthy work-life balance. Superwoman by day, super mom by night." – Manna Kadar, Founder of Manna Kadar Cosmetics
"Finding time for friends, family, work, your own personal time, doctor appointments, splurges, or just getting dressed in the morning is an endless process of prioritizing and making choices. The skill comes down to realizing you are always choosing with the goal being to keep that 'balancing act' in your consciousness every day." – Paula Begoun, Founder of Paula's Choice
"I remind myself that we work to live and not the other way around. I make sure that I never get too caught up in the stresses of work that I'm unable to enjoy life." – Chika Okoro, Director of Consumer Insights at FabFitFun
Conquering Your Fears
Don't let your fears hinder your growth or stop you from pursuing your goals!
"Be honest and authentic about your fears. Share it with people you trust. When you let it out into the light instead of keeping it in the dark, it loses its power." – Alyssa Perry, Senior Director of Marketing at FabFitFun
"When I was younger and would hesitate to do something because of fear, I'd often ask myself what is the worst that can happen? If it wasn't a big deal, then I'd push past my fear and go for it!" – Karen Behnke, Founder of Juice Beauty
"My general rule is to feel the fear but then to go ahead and make myself do it anyway. There's no easy advice on how to conquer your fears, but the simple truth is that the more you do something, the easier it gets. Life doesn't wait for those who are too scared to take a chance. The best thing you can do is to believe in yourself and take a leap." – Katie Echevarria Rosen Kitchens, Co-Founder and Editor-in-Chief at FabFitFun
"Take a step every day that brings you closer to your goals – microsteps will make anything feel less intimidating and more attainable." – Divya Gugnani, Co-Founder and CEO of Wander Beauty
"Go with your gut and get as many mentors as you can who can help you overcome your fears. Be true to yourself [and] be willing to listen. I think about myself when I started, and I wish I could go back and tape-record people who mentored me in the beginning because I'm pretty sure they told me how hard it would be, and I didn't believe it. It's not an easy road, but it's very fulfilling." – Deborah Lippmann, Creative Director and Co-Founder of Deborah Lippmann
Staying Confident
Confidence is key to, well, pretty much everything in life, but remaining confident is a lot easier said than done.
"Embrace and celebrate what makes you different! I've spent so much time trying to fit in and be like everyone else. It was only recently that I realized that being different and standing out wasn't something to be embarrassed about but something in the long run that will allow me to shine brighter." – Angela Mayhew, Talent Aquisition Manager at FabFitFun
"Who else is there besides you? Look in the mirror and say, 'I believe in you.' Repeat it until you believe it." – Jenefer Palmer, Founder of OSEA Malibu
"Believe. Believe. Believe. Believe in yourself. Believe in your abilities. Believe in your power. If you are struggling to believe, come up with a brilliant mantra that reminds you of how great you are and repeat it all day, every single day until you start to believe." – Reina Govindarajan, Head of E-Commerce at FabFitFun
"Confidence truly comes from within. If you believe in your product and in your commitment to do it with humility and grace, your confidence will grow more and more every day." – Dara Levy, Founder of DERMAFLASH
"Be your own best friend! Believe in yourself like you do those you love. You got this!" – Jill Morehouse, Social Relations Manager at FabFitFun
xx, The FabFitFun Team