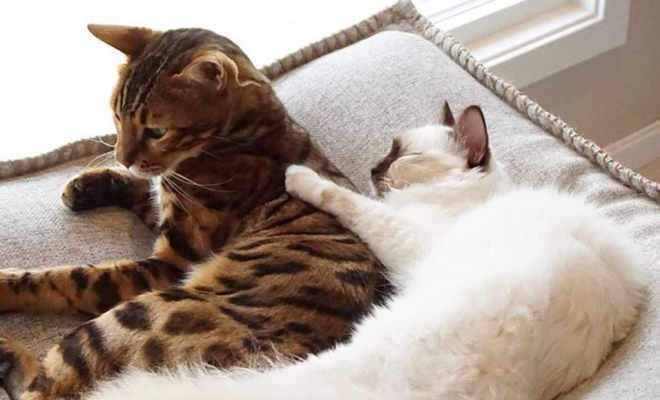 @felixthebengal
Cats are probably on the list of the Internet's top five favorite things amongst: pizza, viral videos, latest celebrity gossip, and their animal counterpart, dogs. We personally love kittens because they're fun, loyal, therapeutic to pet, and undeniably adorable.
These are just six of the millions of felines that we're feelin' right meow.
@felixthebengal
All of us who watched Aladdin as little girls harbor a secret dream of owning our very own Rajah. Getting (or following) a bengal kitty like Felix is the more practical (and less dangerous) version of this dream.
---
@lilbunnysueroux
Roux, the T-Rex cat, was born without her two front legs. But she doesn't see this as a handicap — she walks, plays, smiles, and otherwise lives her life to the furr-est! Inspirational and adorable, her feed is the instant way to turn a bad day paw-sitive.
---
@utamaruru
This Scottish fold princess is livin' the luxe life. From being pampered by her owners to experiencing all of Tokyo's best, it's no wonder she constantly has a look of surprise on her face! Utamaru has her own blog and YouTube channel, too.
---
@hamilton_the_hipster_cat
His name says it all! Hamilton's white handlebar mustache is 100% real, as is his stoic, sarcastic sense of humor. #mustachecat
---
@waffles_the_cat
Her bio reads, "When I was a kitten no one wanted me; now I have a lot of friends?" Can we be your friend too? Waffles' online store sells pins, keychains, prints, and calendars for the ultra-obsessed (aka us).
---
@richard_kitty
Richard's eyes are just extraordinary. Maybe that's how he's able to see how important animal adoption is — his blog talks all about the #AdoptDontShop movement that saved his life.
xx, The FabFitFun Team