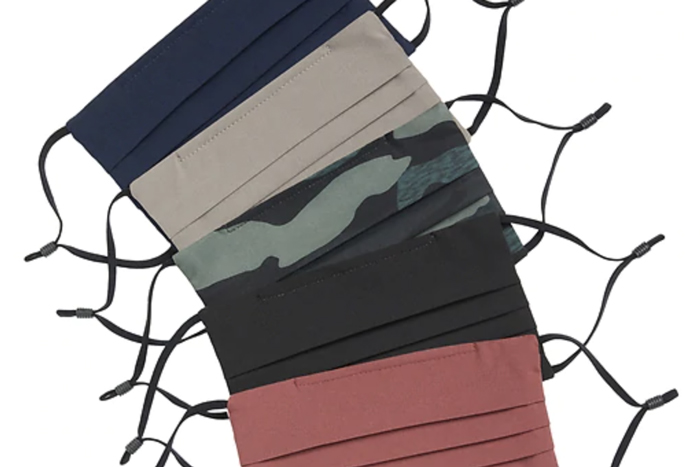 Feature Image by Athleta
Gyms around the country are beginning to reopen and taking all the extra precautions, which means there will be new guidelines in place. This includes wearing a mask while working out, which might sound impossible – but it's definitely doable.
One of the main concerns you might have with wearing a mask is how it'll affect your breathing. Greg Tetzlaff, the director of beverage marketing at Nutrabolt says, "Yes, wearing a mask during a workout does affect your oxygen uptake. However, this will vary for the type of workout. Most commonly, oxygen uptake becomes a limiting factor in high-intensity training – such as sprinting or interval training. Endurance based workouts would likely suffer the most, as having a steady and prolonged requirement for oxygen would be necessary."
Oxygen uptake, by definition, is the rate at which oxygen enters the body, and of course, when you're physically active, you need more oxygen. There isn't a need to worry though; there are ways to make sure you're getting enough oxygen while wearing a mask and working out at the same time. First, you can help boost your oxygen intake by looking for supplements that will improve your body's response to stressors, like XTEND Elite. 
Another important thing to do is to listen to your body. Do exercises that you know you'll be able to handle while having a mask on. If you need to do something more strenuous, consider taking a break from the gym and doing a solo workout outside alone.
Lastly, you can also try wearing masks that are breathable, moisture-wicking, and specifically designed for workouts — like the ones below!

Lele Sadoughi has two types of masks: fashion masks that are super comfortable yet chic, and performance face masks that are made for physical activity. Two of the masks in the set are spandex while one is cotton so you get a variety of materials to test out!
---

This mask is made for athletes, has good airflow but doesn't let moisture out, and it has an anti-microbial treatment on the inside to keep the mask fresh. Plus, the outer shell is water-resistant, making it the perfect gym mask.
---

These masks have three layers of fabric, which make them effective yet comfortable. They are also made to be breathable so when you're working out, you won't be huffing and puffing.
xx, The FabFitFun Team