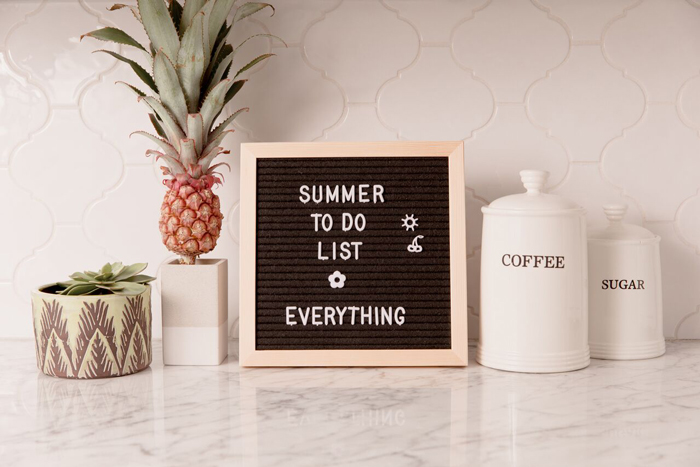 SUMMER 2019 BOX PARTNER
If you thought letter boards were only meant to display Pinterest-worthy quotes, think again. From to-do lists to special love notes, you can use letter boards, such as the xo, Sienna Black Felt Letter Board, for so much more!
Here are all of our favorite ways to use letter boards.
P.S. Want more chic home decor items? Sign up for FabFitFun to receive $200+ in lifestyle goodies (trust us, you won't regret it).
Leave sweet notes
Whether it's a note to your kids or an inside joke with your roommate, letter boards are the perfect opportunity to show loved ones you're thinking about them.
Morning motivation
Fill your board with an inspirational quote and leave it on your bedside table. You'll feel extra motivated to make the most of your day when "Yes, You've Totally Got This," is the first thing you see each morning.
Make a menu
Want to impress your guests at your summer barbecue or dinner party? It's all in the details. Put your letter board on display at the buffet table by listing out all the yummy food options you've prepared.
Create a countdown
Have a special event coming up? Maybe you're finally going to see your favorite singer in concert or your long distance BFF is coming to visit – whatever it may be, turn your letter board into a countdown to keep the excitement going.
To-do lists
You know what they say: out of sight out of mind. Stay on top of your weekly tasks by putting your to-do list on display. Remove the tasks from your board as you get things done and you'll feel more productive than ever.
Celebrations
Bachelorette party? First day at a new job? Baby's first birthday? The letterboard is a super cute prop to celebrate all of 2019's best milestones.
xx, The FabFitFun Team