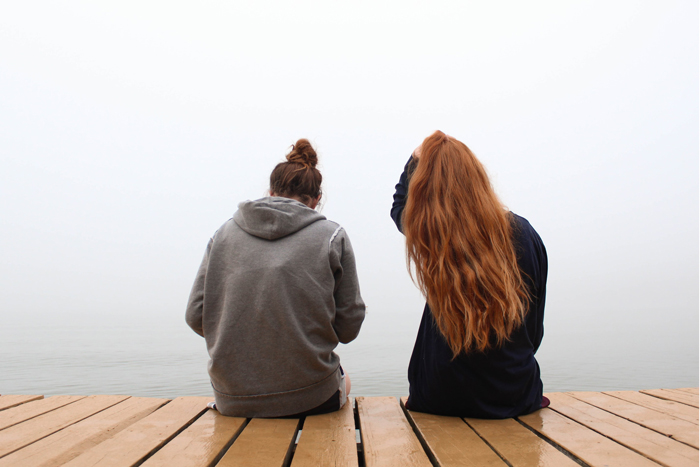 Feature Image by KaLisa Veer
It's easy to get so busy with work, romantic relationships, and your day-to-day life that you forget to nourish your friendships. But making the effort to be a supportive friend is one of the best things you can do for your mental health as well as your friends'. And right now, it's especially important to reach out to loved ones to check in on them and quell quarantine loneliness.
Here are some easy ways therapists recommend showing your support for your friends.
Call them for no reason.
People want to feel wanted, and calling your friend out of the blue with no agenda shows them that you care about them, explains Laura Goldstein, LCMFT, a marriage and family therapist in the D.C. metro area.
Ask them what they need.
If a friend is going through a rough time, they may not need your advice — they may simply want someone to vent to, says Goldstein. So, one of the best questions you can ask a friend who's dealing with a challenge in their life is asking them how you can help them or what they need from you.
Ask their permission before venting.
Since things are heavy for a lot of people right now, it's considerate to see if your friend is in a place to support you before you come to them with your own problems, says Goldstein. However, it is good to tell friends what's going on in our lives as long as they're open to it, says therapist and author Dr. Lauren Cook. "When we're vulnerable with our friends, it tends to make other people feel safe to share. This doesn't mean that we monopolize the conversation with our own story, but instead, it's a way for our friends to know that they're not alone."
Check in with them at least once a week.
Even if you're just sending your friend a funny meme or asking them how they're doing, this goes a long way to show they're important to you, says Cook. "Especially if they're going through a hard time, you're sending a message that you want to communicate and that you won't be bothered if they reach out."
Surprise them with a gift.
A small gesture like sending someone a Starbucks gift card or delivering a treat, like donuts, is a sweet way to reach out and let your friend know you're there for them, says Cook. And if they're going through something difficult, it's a way to cheer them up that doesn't require them to talk about it if they're not comfortable sharing.
What are some other ways you support your friends? Let us know in the comments below.
xx, The FabFitFun Team