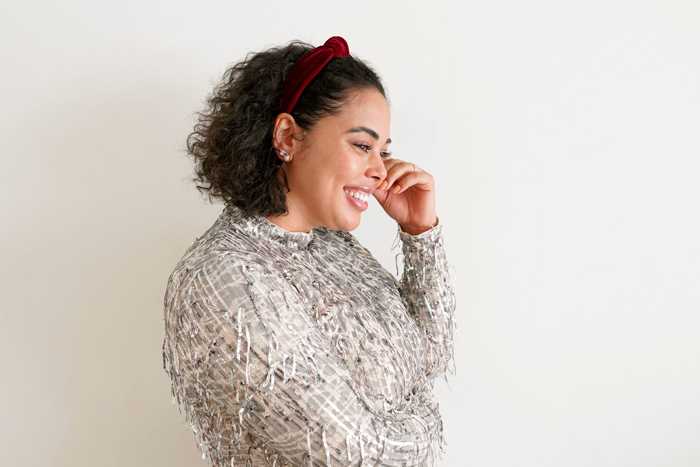 Going out this winter? We didn't think so. Most of us are planning to be nestled at home all winter long, and it's crucial to have some at-home style that is perfect for Zoom meetings, holiday parties, and game nights.
The Lele Sadoughi Maroon Velvet Headband is our absolute go-to for winter styling. Hair not looking too cute? The headband takes care of all of that. To help get you inspired, here are some of the ways we're styling the headband this winter.
Low bun, baby
The low bun look is such a go-to in 2020. It's easy, effortless, and can be done in different ways. If you're usual is the slicked-back bun, try something different. Throw on the Lele headband, twirl your hair in a low bun, and then let your bangs drape over your face for an "I didn't get ready", ready-to-go look.
Velvet suit
Something about the velvet headband has us craving an all-velvet uniform from head-to-toe. Wear your hair in Hollywood glam curls, adorned with the Lele headband. Next up, add your favorite velvet pants and top to the mix and you're literally a walking winter wonderland.
Enhance your side braid
We love a side braid. It's so easy, manageable, and still allows you to look put together without sacrificing comfort. The only thing that could make it better is throwing on a cute headband (specifically the Lele, duh.)
Dress it up
We love how casual the Lele can be, but we also love how much you can dress it up. Throw on your favorite sparkle, rhinestone, or fringe ensemble with the Lele headband. Then, strut into your Zoom holiday party with enough confidence to shut the party down.
Style with a turtleneck
Enhance your winter look with assistance from Lele. We recommend slipping into your favorite turtleneck for a clean silhouette and then adding your headband for a pop of color and fun on what could often be too serious of a look. Throw on a coat or blazer and your outfit is complete!
xx, The FabFitFun Team
Psst! Have you signed up for FabFitFun yet? Don't miss out on $200+ in amazing beauty, fitness, fashion, and lifestyle products, access to exclusive fitness and cooking content on FabFitFunTV, members-only sales, and more. Use code SHIMMER at checkout for 20% off your first box.
To get the most out of your box products, make sure to check out the Insider page.