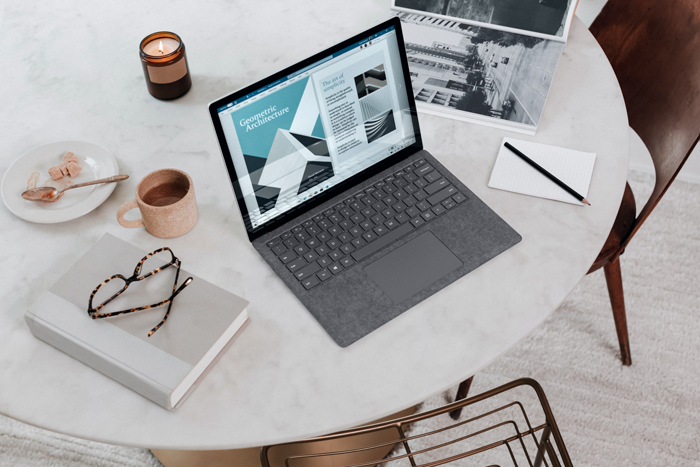 Feature Image by Windows
Prior to the pandemic, one in five employed adults in America worked remotely. In the last year, that number has drastically increased to 71% of working adults (wow!). As work-from-home has become the "new norm" for the foreseeable future, it's important to create routines to help us adapt while also maintaining our productivity. 
Keep reading for tips on how to create a rewarding WFH routine: 
Use a calendar or to-do list.
If you want to stay on top of your schedule, here's a pro tip: write every task down. Whether you have a planner, a wall calendar, an array of sticky notes, or a to-do list in your journal, write down what you need to get done. Writing things down makes it harder to forget and brings you one step closer to creating a routine. We also recommend using online tools like Evernote if you prefer to keep track of your tasks digitally.
Set a timer for designated tasks.
Perhaps you find that you are most creative in the morning. In the afternoons, you find that you are best at knocking out phone calls and administrative tasks. It's great to take note of the ebbs and flows of your productivity and to block out time for these specific activities. Set a timer for an hour and a half of uninterrupted writing. Set a timer for an hour to only respond to emails. Blocking out time will give you a goal to shoot for and increase productivity.
Take a break.
When working from home, it can be tempting to spend countless hours behind a computer screen without any reprieve. Work breaks are said to increase productivity, creativity, decision-making skills, and motivation. Set a routine of an hourly five-minute break, whether it is just to stretch, get a sip of water, or grab a snack. Take walks or go outside for lunch during your midday break. 
Create a designated workspace.
One of the most important things WFH employees learned in 2020 was the value of a designated workspace. While it might be tempting to work from your bed or couch every day, this might not encourage you to do your best work. Setting up a workspace with items like a lamp (or good window lighting), your laptop, pens, and a notepad will help you stick to work during the day and create a routine of productivity. Don't be afraid to add a little or a lot of creative flair and make it your own.
Leave some room for spontaneity.
It might seem counterintuitive, but buffering out time for a little spontaneity might aid you in establishing a WFH routine. The goal is to get work done from home, and with that comes the necessity to not get stuck in a rut. Leave gaps of time to go on walks with friends, to grab coffee, or to work from the park. Every day does not have to look exactly the same in order to create a productive routine.
Do you have any work-from-home tips? Share them in the comments below!
xx, The FabFitFun Team