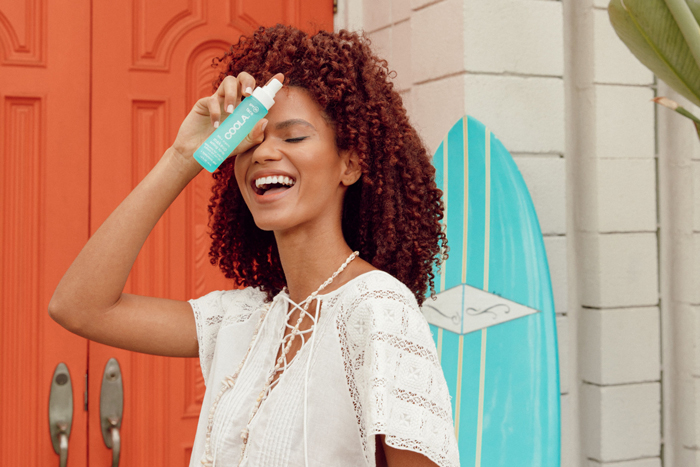 SUMMER 2019 BOX PARTNER
Burning skin, a sweaty face, smudging makeup – the list of beauty problems caused by the summer heat goes on and on. So we asked experts to share their best tips for relieving the most annoying summer beauty issues of all.
P.S. For even more tried-and-true beauty products, use code SUNFUN for 10% off your first FabFitFun box.
Rashes and wounded skin
Rashes and wounded skin are easier to take care than you'd think – just reach for the Doctor Rogers RESTORE® Healing Balm. "[It] is a natural ointment that heals and repairs rashes, wounded, burnt, lasered or sensitive skin," says Dr. Heather Rogers, certified dermatologist and founder of Doctor Rogers. "Apply as often as needed to dry or damaged skin to protect and promote healing."
Melting foundation
You want to look your best, but the hot, humid air definitely doesn't help. Luckily, the COOLA Organic SPF 30 Makeup Setting Sunscreen Spray does. "The weightless, matte-finish spritz helps makeup stay put and delivers a quick hit of hydration and sun protection anytime you need it," says Mykella Gannon, director of marketing at COOLA. Gannon suggests misting the setting spray across your face 15 minutes prior to sun exposure and reapplying after 80 minutes of swimming or sweating for best results.
Runny eyeliner
Summer sweat and dips in the pool can wreak serious havoc on the cat-eye you spent 20 minutes perfecting, but the Eyeko London Eye Do Black Liquid Eyeliner has your back (and your eyelids). "[It's] waterproof with a smudge-proof formula, so once it's dry you don't have to worry about transfer to [your] eyelids," says Ana Chapman of Eyeko.
Super sweaty face
Let's be real, sweat is the root of almost all summer beauty problems. Use the grace & stella Rose Facial Spray whenever you need a midday pick-me-up. The rose-scented mist freshens up and moisturizes your skin simultaneously, which basically makes it a necessity for anyone who spends time outside during summer (aka everyone).
Calloused feet
Summer means sandals all season long, which can lead to calloused and sore skin. Exfoliate, polish, and renew your dry heels and feet with the Whish Exfoliating Foot Mask. Remove those stubborn calluses and dry skin while moisturizing and healing. The combination of natural ingredients works to soothe and smooth rough or damaged skin so you'll be ready to show off that pedi.
Frizzy hair
We can all relate to the frizz and grease that comes with the humidity of hot summer days. That's why we always use the Living Proof No Frizz Nourishing Styling Cream before stepping out in the heat. It smooths, conditions, and eliminates frizz by blocking humidity without weighing your hair down. Plus, it's safe for chemically-treated and color-treated hair, so you never have to worry about your summer highlights getting ruined.
xx, The FabFitFun Team
Psst! Have you signed up for FabFitFun yet? Don't miss out on $200+ in amazing beauty, fitness, fashion, and lifestyle products, access to exclusive fitness and cooking content on FabFitFunTV, members-only sales, and more. Use code SUNFUN at checkout for 10% off your first box. #yourewelcome
To get the most out of your box products, make sure to check out the Insider page.